The National Emergency Management Agency (NEMA) and the Nigerian Air Force (NAF) have expressed commitment to collaborate on emergency management in Lagos State.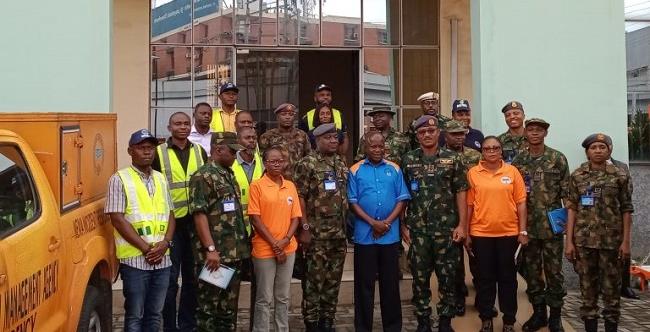 They made the commitment on Monday, August 29, 2022, in Lagos during a courtesy visit to NEMA by AVM Emmanuel Shobande, the Air Officer Commanding (AOC), NAF Logistic Command, Lagos.
Shobande said that he came with his team to NEMA to foster a partnership with people of similar work interests.
"If you really want to work, report, you look around; there's no way you can work alone.
"Apart from working internally within the Air Force and our unit, we need to look outwards to the ones that we can work together with, that we know that can work effectively.
"We look around and identify such units or such departments and reach out. We are here, we are to work," he said.
According to Shobande, NAF and NEMA have a tradition of collaborating and working together for same goal as far as emergency and disaster management is concerned.
He said, "So we have been working together for a while now; we have our officers in NEMA too.
"It's just important that we come, identify with you, know your staff and see how we can work together. That's what has brought us here."
In his response, Mr Ibrahim Farinloye, Zonal Coordinator, South West, NEMA, said that NAF and the agency were partners in progress.
He said that before the birth of NEMA, the National Emergency Relief Agency (NERA) was charged with disaster and emergency management.
Farinloye said that the survival of NERA was basically fostered by the activities and the active involvement of NAF.
"With the transformation of NERA to NEMA, Nigeria Air Force was given specific role because of the sensitive nature of emergency management agency in the country, or anywhere in the world.
"The role of taking charge of a department meant for search and rescue, which is the core mandate of the agency, is specifically allocated to NEMA," he said
Farinloye said that NAF initiated the purchase of the NEMA's aircraft used for search and rescue operations and the training of its staff.
He said that during the COVID-19 pandemic, NAF was instrumental in relief delivery and distribution.
"During the COVID -19 pandemic, we turned to the Nigeria Air Force as part of NEMA structure then, because all communications were broken.
"But with the Nigerian Air Force, we didn't feel flight was delayed or anything and relief delivery, distribution, everything was done through the NAF," Farinloye said.
He said that NEMA's air ambulance, which was recently revived,was being manned by officers of the NAF.
Farinloye, who took his visitors on a facility visit of the zonal office, expressed gratitude to the officers and the entire team that came with Shobande.
Highlights of the visit were exchange of gifts by NAF and their host.
By Fabian Ekeruche