The National Emergency Management Agency (NEMA) in Niger State has called on village and district heads as well as religious leaders in communities to begin preparations to mitigate impending effects of 2023 floods in the state.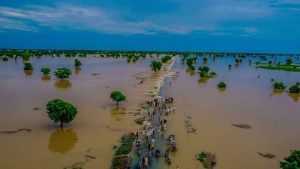 Hajiya Zainab Sai'du, Head, NEMA Minna Operations Office, who made the call in a statement in Minna, the state capital, on Monday, May 1, 2023, explained that the call became necessary following the Annual Flood Outlook (AFO) released by the Nigeria Hydrological Service Agency (NIHSA) and the 2023 seasonal climate prediction by the Metrological Agency (NiMet).
According to the statement, the two reports are products of scientific research that have revealed that the country will suffer the probability of flood in three categories.
"The categories are high flood risk, moderate and low flood risk. This reports also identifed Niger State as among the states in the category of high risk flood states," she said.
Sai'du disclosed that normal to above normal amount of rainfall was expected in 2023 which might result to little absorption, thereby creating huge water runoff on the surface that would result to flood.
She added that other causes of flood was indiscriminate dumping of refuse in water ways, culvert, building on water ways, refusal of riparian dwellers to relocate to higher and safer grounds during raining season.
She noted that the 2023 flood would affect not only riverside communities but would also affect people in urban areas in the state, adding that Niger State was predicted to experience flood between August, September and October.
Sai'du said that it was expedient for traditional and religious leaders across the state to key into the risk reduction approach in order to reduce as well as mitigate the
danger that was ahead.
"NEMA Minna Operations Office strongly calls on these community leaders to,
as a matter of urgency, lead the people of their various communities in identifying drainages/culverts that are blocked to be cleared.
"Community heads should also sensitise their people who have built on flood plain and those living along river banks to relocate to safer and higher places," she added.
She noted that adhering to the early warnings would help to save lives and property.
By Rita Iliya