Participants at the just concluded two-day National Emergency Management Agency (NEMA) organised and United Nations Development Programme (UNDP) supported Expert Review Workshop held at the National Institute for Policy and Strategic Studies (NIPSS), Kuru-Jos, Plateau State, have emphasised that all hands must be on deck in implementing the policy on mainstreaming gender in disaster management when it becomes a working document.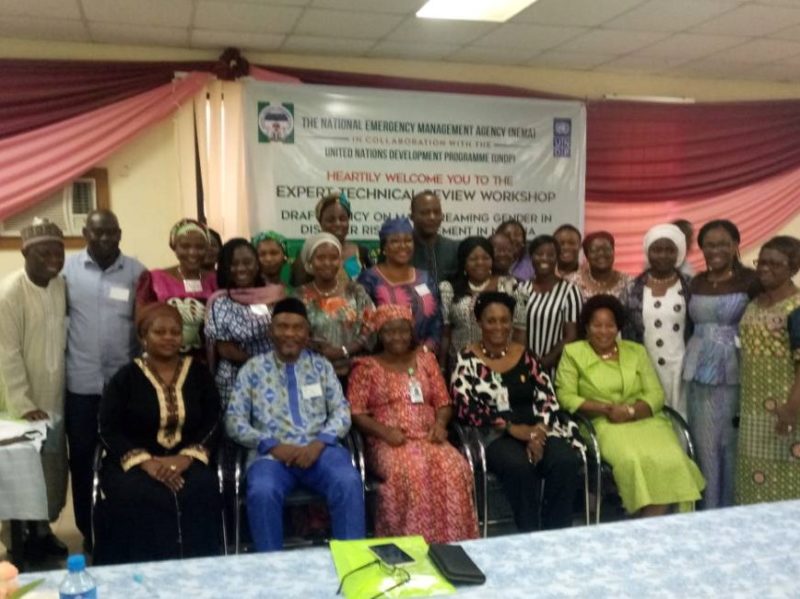 While evaluating the workshop at the close of the event on Friday, 2nd June, 2017, they opined that mainstreaming gender in disaster management is key to aligning the society for proper development.
Speaking, Special Assistant to the Vice President on Humanitarian Affairs, Ms Olabisi Ogungbemi, stated that the workshop is a good development for NEMA and the country and aided in sieving through the policy document draft to see how it can be completed and pushed for proper implementation.
"There are challenges and when it comes to gender issues in the country, it is a sensitive issue to tread with caution, however, we have the political will to push and continue to push till we get what we want," she added.
Also speaking, Assistant Director (Head Gender Unit), Federal Ministry of Agriculture and Rural Development, Mrs Ifeoma Anyanwu, who commended UNDP for anchoring the workshop and being visible in interventions on gender issues, said that, for the document to work, the gender unit of NEMA has to be supported by all components of the Agency.
In her remarks, Gender Desk Officer, Department of Climate Change, Federal Ministry of Environment, Oluwabusola, Ajibola, stated that there is every need to ensure that the policy is implemented and not left on the shelf like others.
She maintained that NEMA has done a good job with drafting the gender policy and hope they will take ownership of the document and advocate for its implementation with a vigorous push.
For Dr Elias Lamle, a lecturer with the Centre for Conflict Management and Peace Studies, University of Jos, the workshop which is practical and inclusive will usher in a well tailored policy on gender mainstreaming in disaster management which other organisations too can benefit from.
In her closing remarks, the workshop's consultant, Prof. Funmilayo Para-Mallam, who noted that gender is a critical issue impacting on the lives of women, men, boys and girls, commended participants for their input, stating that it would go a long way in fashioning a sustainable policy document.
In his vote of thanks, Deputy Director Disaster Risk Reduction, NEMA, Benjamin Oghenah, while appreciating NIPSS collaboration by hosting the workshop thanked participants for their robust contributions and passion put into the workshop.
By Damian Daga, Kuru-Jos