The Nigerian Conservation Foundation (NCF) on Tuesday, October 22, 2019 urged Nigerians to preserve the nation's mangrove forest zone to prevent incessant flooding in the country.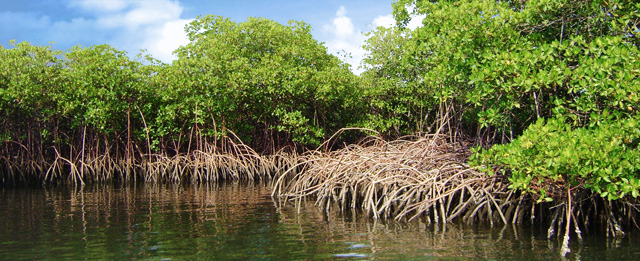 The foundation's Director-General, Dr Muhtari Aminu-Kano, said that the mangrove, located along the nation's coastal area, acts as a buffer to ocean surge that result to flood when sea level rises.
The conservationist, who spoke on the menace of flooding, told News Agency of Nigeria (NAN) in an interview in Lagos that the destruction of the mangrove had left human habitat bare to the vagaries of ocean and sea.
The mangrove forest consists of trees that grow near the coast with the roots hanging from their branches into the water.
The NCF DG said that the flooding ravaging Nigeria in recent times could be traced to human activities.
"The cutting of trees in this zone and the encroachment of structures in urban centres such as Lagos are depleting the buffer zone.
"As a rainforest zone with a lengthy stretch of coastal line nature provides us with mangrove as a buffer to flood that can come as a result of sea level rise.
"Lagos, seating below sea level, should be of priority to the state and the Federal Government with a view to maintaining and preserving mangrove to avert flood and sustain life.
"Regrettably, the mangrove maintenance crusade never started earlier alongside the urbanisation and the floods are here threatening our habitat with tales of woes,'' he said.
According to him, the realisation of the consciousness of our misdeed to mangrove destruction and the implementation of policies toward afforestation and preservation of what remains of it will halt the further danger.
He said that NCF had drawn the attention of the federal government to the Lagos beach erosion.
Aminu-Kano added that NCF had also been working in partnership with the Lagos Ministry of Environment and Water Resources to stem the tide.
He spoke on the need to intensify sensitisation of people toward sustainable management and enhancement of forest carbon stock and reducing emissions from deforestation.
The Lagos State Government had on Sunday alerted residents of imminent flood due to rise in sea level as some areas were already being flooded.
By Uchenna Eletuo