Bothered by the nation's alarmingly diminishing forest resources, the Nigerian Conservation Foundation (NCF) appears to have taken the gauntlet in the bid to address the somewhat unsavoury development.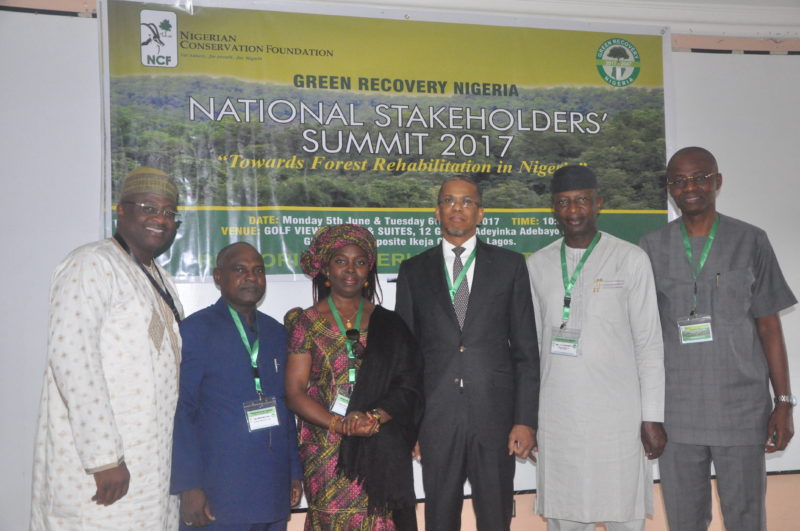 Courtesy of a re-greening initiative tagged: "Green Recovery Nigeria (GRN)," the national environment watchdog aims to restore the nation's forest cover to at least 25% within the next three decades.
"It is common knowledge that Nigeria can barely boost of a 7% forest cover, despite her historical affluence of about 40% forest cover in the years preceding the oil boom. The marked decline in forest cover in just a space of about 40 years is enough evidence and proof to stress that Nigeria can become a 'forestless' nation," said Chief Ede Dafinone, Chairman, National Executive Committee of the NCF, in an address at a Stakeholders' Summit in Lagos on Monday, June 5, 2017.
At the tw0-day Summit to kick-off the programme, Chief Dafinone lamented: "The beauty of green has been substantially replaced with the grey of concretes to such an extent that Nigeria may be in the peril of importing fuelwood and timber from neighbouring countries if we fail to utilise this moment to deliberate on the modalities for securing the future of the forestry sector in the country. Our mandate here is to recover perhaps the extent of forests we have lost over the past decade due to human activities."
Director General of the NCF, Adeniyi Karunwi, described the GRN Initiative as a national programme that belongs to all Nigerians including religious bodies, production entities, institutions and other non-governmental organisations (NGOs).
"It is my hope therefore that we shall all strive to give this initiative the required facelift and stimulus needed to drive Nigeria's forests back to the minimum global standard of at least 25% over the next 30 years (2017 – 2047)."
He described the GRN as an initiative "to accommodate ongoing efforts in the forest sector, operationalise voluntary carbon markets to create employment opportunities, enhance community resilience to climate change, as well as support afforestation and reforestation projects across Nigeria."
Active in the nature conservation sector for about 32 years, the NCF, according to Karunwi, has a vast repository of conservation experience in both fauna and flora preservation in the country.
He disclosed: "Our efforts in communities and protected areas over the years brought over 700,000 hectares of forestland and more than six species of endangered animals (Elephants, Chimpanzees, Pangolins, Mandrills, Vultures, Ibadan Malimbe, etc) under our direct management in Nigeria.
"NCF is therefore an encyclopedia of conservation knowledge in Nigeria with over three decades of cumulative learning and experience."