The Nigerian Conservation Foundation (NCF) has underlined the need to build natural resource value of wetlands within the general Great Green Wall (GGW).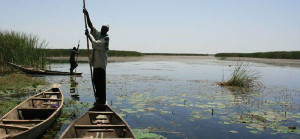 The Lagos-based environment watchdog is also seeking the integration of the GGW programme to biodiversity value enhancement in the West African region.
These action points form part of the NCF contributions to the CSO (civil society organisation) e-forum on the Great Green Wall of the Sahara and the Sahel Initiative (GGWSSI), organised by the International Union for Conservation of Nature (IUCN).
While calling for capacity building for biodiversity monitoring in the GGW Area essentially for members of the Nguru Integrated Farmers Association (NIFA), the group is clamouring for capacity building support of communities in appropriate tree species identification and nursery management.
Concerning activities and mechanisms to engage CSOs, Alade Adeleke of the NCF wrote: "Enhancing the role of wetlands in the scheme of Great Green Wall Planning and Management is noteworthy. A good example is the Hadejia Nguru Wetlands in Jigawa and Yobe States of Nigeria.
"Emphasis should also be on design, integration and development of grazing routes within the scheme of GGW development and management as part of the general land use planning of the GGWSSI."
The NCF director also underscored the need on common bird monitoring and use of GGW by migratory waterfowl and land birds. He also suggested stakeholder participation in GGW development and management for sustainability purpose.
Besides allowing participants to identify groups of actors and their needs to take into account in the GGWSSI, the two-week forum that comes to a close on Tuesday (January 20, 2015) also aims at providing documentation best practices in connection with the GGWSSI and the needs of identified groups.
The results of the forum will be presented at a dissemination workshop that will integrate the proposals in the final document of the project.
The GGWSSI is a planned project to plant a wall of tree across Africa at the southern edge of the Sahara desert as a means to prevent desertification.