The Nigerian Union of Journalists (NUJ) Abuja Council has said it is ready and willing to partner with the National Biosafety Management Agency (NBMA) to create awareness and educate the general public on its mandate which is ensuring the safety of Genetically Modified Organisms (GMOs).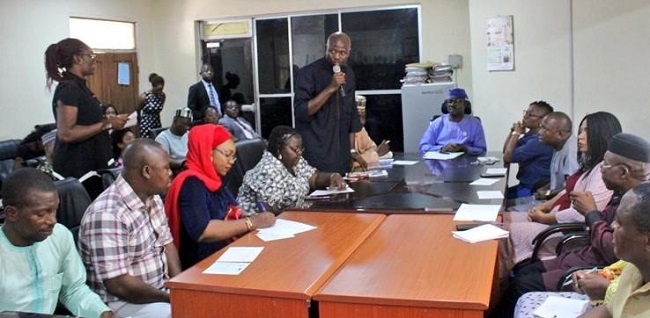 Vice Chairman, Abuja NUJ, Mr. Patrick Osadebamwen, who said this when the union paid a courtesy call to the agency on Wednesday, April 3, 2019, stated that the pubic needs to be enlightened as the subjects of biosafety and modern biotechnology are not widely understood.
Osadebamwen appreciated the fact that the Federal Government considered it imperative to establish an agency to oversee the activities of modern biotechnology for environmental sustainability and human health and urged NBMA to expedite action on awareness creation to educate Nigerians on its mandate and activities.
"Your work in regulating this sector is very important because our borders are porous. Prior to the existence of NBMA, many people did not know about GMOs and I am sure we must have consumed them without being sure whether they were safe or not."
Osadebamwen added that the union is ready to help the agency accomplish its mandate.
Director General/CEO, NBMA, Dr. Rufus Ebegba, expressed gratitude over the gesture of the union to collaborate with the agency in ensuring that only safe GMOs are available in Nigeria. He stated that the media, being the major source of information to the public, have a huge role to play. He used the occasion to challenge all media outfits in Nigeria to carry out investigative journalism that will ensure dissemination of verifiable information.
Dr. Ebegba added: "NBMA was not established to neither promote GMOs nor stop them but to ensure that whatever results out of the practice of modern biotechnology is safe for humans, animals and Nigeria's biodiversity.
"Every technology is intended for a purpose however human nature is complex, some of these technologies are abused and could be used for wrong purposes that could pose harm to human and environment. That is the reason NBMA was established so that the environment and human health can be protected."
Ebegba led the delegation on a tour of the Genetic Modification (GM) Detection and Analysis Laboratory where the group was shown samples of suspected GM foods, under analysis in the GM lab, obtained during the process of enforcement by officers of the agency.