The Director-General, Ghana-India Kofi Annan ICT Centre of Excellence (GI-KACE), Dr Collins Yeboah-Afari, says natural resources are the bedrock of a nation's livelihood, productivity, prosperity and sustainability.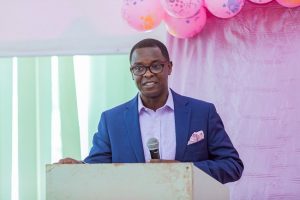 Yeboah-Afari said this at a webinar to launch the maiden edition of the Biennial Media Forum on Natural Resources, Environment, Climate Change and Science (BiM NECS) in Accra, Ghana, on Monday, June 12, 2023.
According to him, the vibrancy of the sector to a large extent depends on several factors.
"They include the prioritisation of how the resources are exploited and utilised.
"As well as communication and information sharing, which are critical for knowledge building, processing of issues, decision making, responsible choices and actions.
"These are also dependent on several measures such as today's gathering, which is vital for sharing, learning, generation of knowledge and networking."
He said that it was a privilege for him to preside over the gathering of eminent persons focused on taking to a new level the national conversation on natural resources, environment, climate change and science.
"It is for these reasons that I am delighted to be chairing this congregation of experts in natural resources management, climate change and environmental protection, conservationists, activists, researchers,  scientists, analysts, statisticians, media practitioners and journalists.
"Together, we are going to chart a new path that will further stimulate, push and motivate us to overcome the challenges of natural resources management, environmental degradation and climate change impacts.
"As well as embrace approved sound scientific innovation and technology," Yeboah-Afari said.
He challenged media practitioners to develop passion for research and development for environmental sustainability.
Yeboah-Afari told journalists that the event was timely.
"It is coming at a time when the journalism of today is now graduating to contributing to technical discussions."
According to him, journalism is now reaching out to humanity in humane ways, which can be referred to as "compassionate journalism."
"Yes, journalists are now at the forefront of impactful developments, and making sense of the ongoing conversation on natural resources, environment, climate change and science," Yeboah-Afari said.
He said that it was worthy of note that this new move was not being driven by the traditional sectors such as public sector institutions, civil society organisations or the international community known to have the technical expertise for initiating enterprises.
"No, it is being championed by the media in collaboration with research institutions, having recognised that their role should not just be gathering, packaging and disseminating information.
"They have become aware that they can further employ their skills for better influence and impact at the frontlines," Yeboah-Afari said.
He expressed gratitude to the Media Platform on Environment and Climate Change (MPEC) and other partners for their commitment in instituting the forum.
By Fabian Ekeruche