The Intergovernmental Panel on Climate Change (IPCC) has said that governments and the scientific community are showing a strong interest in its next report, which will look at the implications of global warming of 1.5 ºC.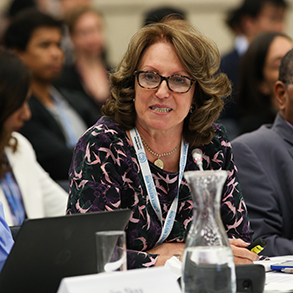 Nominations of experts to participate in the scoping meeting of the Special Report on the Impacts of Global Warming of 1.5 ºC above Pre-Industrial Levels and Related Global Greenhouse Gas Emission Pathways (SR1.5) totalled 589 people.
The IPCC says in a statement on Friday that it is examining the nominations and will select around 70 experts by 30 June 2016 to take part in the scoping meeting to be held in Geneva from 15 to 17 August, which will draw up the outline of the report – its structure and contents. This outline will then be considered by the IPCC at its next Session to be held in October in Bangkok. The Special Report will be developed under the joint scientific leadership of all three IPCC Working Groups.
"The large number and wide range of nominations show the lively interest of countries and experts in the work of the IPCC as the world moves to tackle climate change," said IPCC Vice-Chair Thelma Krug, who chairs the scoping meeting's Scientific Steering Committee.
Nominations were received from 85 countries and 39 observer organisations. A total of 99 citizenships are represented, and 25% of the candidates are women.
The IPCC was invited to prepare this Special Report by the 21st Session of the Conference of the Parties (COP21) of the United Nations Framework Convention on Climate Change (UNFCCC) in Paris in December 2015. The Conference reached an agreement to limit the increase in global average temperature to well below 2 ºC above pre-industrial levels and to pursue efforts to limit the temperature increase to 1.5 ºC. The Special Report, which the IPCC agreed to produce at its last Session in April held in Nairobi, will provide an evaluation of the scientific state of knowledge of this topic in the context of strengthening the global response to the threat of climate change, sustainable development and efforts to eradicate poverty.
The report will be delivered in 2018, in time for a "facilitative dialogue" that will take place that year to take stock of progress under the Paris Agreement.