As countries around the world seek to adapt and build resilience to the impacts of a changing climate – a key pillar of the Paris Climate Change Agreement – an adaptation strategy rooted in protecting and restoring natural ecosystems is gaining traction.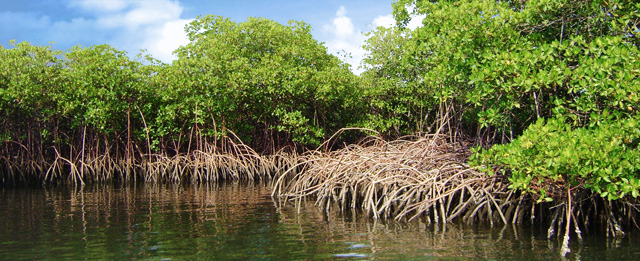 Known as ecosystem-based adaptation (EbA), it protects vulnerable communities from extreme weather while simultaneously providing a variety of ecological benefits crucial for human well-being, such as clean water and food.
According to the United Nations Environment Programme (UNEP), natural solutions to climate change such as ending deforestation and restoring habitats can create 80 million jobs and lift one billion people out of poverty globally.
According to its promoters, the EbA approach is particularly important in these times of the coronavirus pandemic, since it is key to reducing the risks of future pandemics, while simultaneously fighting climate change in a sustainable way.
Ecosystem-based adaptation projects being implemented globally
The Seychelles, a small island developing state in the Indian Ocean that faces the ongoing threat of rising sea levels, is one of a growing number of countries worldwide using nature-based solutions to strengthen its resilience to the changing climate.
An Adaptation Fund (AF) financed project, jointly implemented by the United Nations Development Programme (UNDP) and the Seychelles Ministry of Environment, Energy and Climate Change, has focused on two key issues – water scarcity and flooding.
"Nature-based approaches work because local communities are inclined to protect critical habitats when they understand that these resources can build resilience and reduce disaster risk," said the project's manager, Betty Victor.
The project, which predominantly targets Mahe and Praslin, the two largest islands of the archipelago, rehabilitated badly functioning wetlands that play an important role in decreasing inland flood vulnerability. It also involved building a natural retaining wall using no concrete to store water in the restored upland wetland.
Nature-based solutions can be seen in several other AF-funded projects across diverse sectors and regions.
For example, a project in Antigua and Barbuda is restoring natural drainage canals and ponds to protect against sea rise and floods, and improve flow of stagnant water pools that attract breeding mosquitoes and other disease vectors.
In Cambodia, a project implemented by UNEP with the Ministry of Environment looked at climate smart reforestation methods while diversifying vegetable production through home gardens and enhancing water security to combat failing agricultural productivity due to erratic rainfall.
In India, a project implemented by the National Bank for Agriculture and Rural Development (NABARD) has been concentrating on restoring degraded mangroves which will promote natural systems to protect livelihoods from flooding and erosion, while projects in Mauritius and Senegal are also restoring mangroves against sea rise.