The Federal Ministry of Environment on Friday, May 27, 2022, inaugurated the National Clean Cooking Committee under the Inter-Ministerial Committee on Climate Change. The committee is saddled with the task of developing a national policy on clean cooking and meeting the federal government's goal of universal access.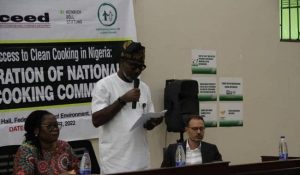 Permanent Secretary, Federal Ministry of Environment, Musa Hassan, represented by Mr. L. T. Adigwe, Director of Human Resources, Federal Ministry of Environment, during his inaugural speech mentioned that the committee is inaugurated to tackle some of the complex issues that the clean cooking sector is facing, from the lack of an enabling environment, to strengthening the supply and demand of clean cooking in Nigeria.
According to him, "over 75% of Nigeria's population still rely on solid fuel for their household cooking and heating needs and this poses threat to the health and safety of end-users, mainly women often accompanied by their children".
He attributed lack of policy coherence and clear institutional leadership as a major barrier to realising the potentials of clean cooking in Nigeria.
He called for joint and cooperative efforts to tackle the problem of inefficient cooking nationally and globally as no individual organisation can confront the phenomenon alone.
While inaugurating the committee, Hassan assured that his Ministry would continue to collaborate, support and provide the required leadership role in ensuring a viable clean cooking sector in Nigeria.
In her welcome address, the Director, Department of Climate Change, Federal Ministry of Environment, Dr. Iniobong Abiola-Awe, stated: "Nigeria as a signatory to the United Nations Framework Convention on Climate change (UNFCCC) and the Paris Agreement has integrated clean cooking in its Nationally Determined Contributions (NDCs) with a commitment to expand access to clean cooking by 2030. The main goal of inaugurating the Clean Cooking Committee is to improve the overall governance of clean cooking industry in Nigeria."
She added that, her Ministry in collaboration with relevant MDAs, seeks to develop a National Clean Cooking Policy that will provide consistent, coherent and coordinated measures to strengthen the supply chain and expand the demand for clean cooking fuels and technologies.
She praised the International Centre for Energy, Environment & Development (ICEED) and the Heinrich Boell Stiftung (HBS) for their efforts and the support they have provided to the Ministry in expanding access to clean cooking solutions in Nigeria.
Executive Director of ICEED, Mr. Ewah Eleri, in his goodwill message, hinted that "Nigeria is facing a silent energy crisis. Only one in 10 households in the country use clean energy sources and technologies for cooking. Traditional cooking with firewood and other polluting fuels such like kerosene and charcoal are claiming lives, destroying the environment and putting a burden on women".
He added that Nigeria has made a firm commitment to expand access to clean cooking. By 2030, the country aims to provide access to LPG for 48% and improved biomass cookstoves to 13% of households.
He said: "The committee being inaugurated today will contribute to saving over 30,000 lives per annum, building a domestic clean cooking industry and creating new jobs, reducing deforestation, assisting the government in meeting its climate change commitments, meeting its pledge to reduce Short Lived Climate Pollutants (SLCP) and improving the lives of women."
Eleri charged all committee members to work hard to ensure access to clean cooking for all is achieved.
In his goodwill message, Jochen Luckscheiter, Country Director, Heinrich Boell Stiftung, congratulated ICEED, the Federal Ministry of Environment and the Nigerian Alliance for Clean Cooking for taking up the issue of clean cooking and putting it into its programming.
He stated that "promoting clean cooking technologies and fuels is a low hanging fruit to reduce emission in Nigeria", adding that his organisation is excited to be associated with expanding access to clean cooking in Nigeria. He urged all committee members to work hard to support the efforts.
While presenting the Terms of Reference of the committee, the Secretary, Nigerian Alliance for Clean Cooking, Precious Onuvae, stressed that the overall goal of the committee is to build a national framework for achieving universal access to clean cooking, meeting the Nigeria's Nationally Determined Contribution and Short-Lived Climate Pollutants commitments.
"The Committee will focus on fostering an enabling environment, strengthening the supply chain and enhancing the demand for clean cooking solutions in Nigeria. The committee will also seek to strengthen domestic and international investments to achieve the stated objectives," she added.
The National Clean Cooking Committee is designated for a period of two years, renewable, based on satisfactory fulfillment of the scope of assignment. The Committee comprises of key stakeholders in the public sector, private institutions, development partners, and civil society organisations, among others.