The Conservator-General, National Park Service, Alhaji Ibrahim Goni, says the service is working toward the establishment of a marine park in Bayelsa State to protect aquatic species.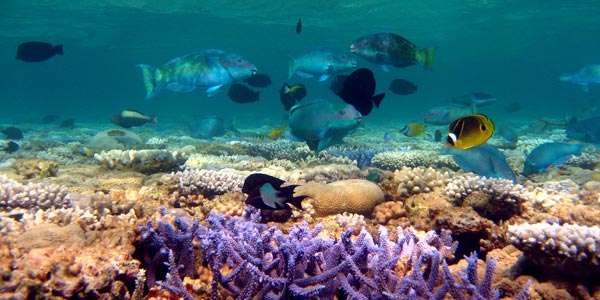 Goni disclosed this in an interview with the News Agency of Nigeria (NAN) on Monday, March 4, 2019 in Abuja as the country joins the world to commemorate World Wildlife Day.
World Wildlife Day is celebrated on March 3 of every year and the theme for the 2019 celebration is "Life Below Water: For People and Planet.''
"Marine parks protected areas are protected areas of sea, oceans, estuaries or large lakes where human activities are restricted for conservation purposes.
"It's not only human activities in the marine environment that affect life in the sea but also the things we do on land.
"The marine park will ensure that oceans and marine species are preserved and protected.''
Goni, however, said that marine pollution remained a major problem that threatens life in the sea at all levels.
"Our oceans have long been used as dumping ground for all sorts of waste including sewage, industrial run-off and chemicals.
"The pollution also ranges from oil spills to pollutants from our communities which flow to the sea through flood during raining seasons.
"All marine pollutions have the potential to seriously damage marine habitats and life in the sea,'' he said.
He said that the service was working hard to meet its targets for SDG 14 on oceans to conserve and sustainably use the oceans, seas and marine resources for sustainable development.
He said that the service was working with stakeholders to conserve wildlife generally across the country.
"There are thousands of wildlife species internationally traded and used by people in their daily lives for food, health care, housing, tourist souvenirs, cosmetics or fashion.''
He, however, assured that with proper partnership, the survival of wildlife and their benefits for the livelihoods, health and environment would be ensured.
"We have entered into collaboration through MOU with various government and NGOs toward getting technical, financial, and scientific assistance.
"We are partnering with Wildlife Conservation Society, Nigeria Conservation Foundation, Institute of Ecology and Evironmental Studies, Obafemi Awolowo University, Kunming Institute of Zoology, Chinese Academy of Science.
"Also, Africa Nature Investors, National Environmental Standard Regulatory Enforcement Agency etc for research, biodiversity, wildlife disease surveillance, park protection, ecotourism and infrastructural development.
Goni said that World Wildlife Day had become an important global annual event dedicated to wildlife.
According to him, World Wildlife Day raises awareness on the importance of wild animals and plants and how they could be preserved for future generations.
He decried the negative impact of some human activities on wildlife, especially in riverine areas.
According to him, theme of this year's celebration, "Life below Water: For People and Planet," is apt.
He said it was a great opportunity to draw attention to the incredible diversity of marine life the country had and how they were being threatened.
"Our rivers are polluted with chemicals from factories and motorised boats make so much noise causing noise pollution on our water bodies.
"There is also the problem of plastic wastes that is everywhere in our oceans and rivers.
"I fear that not long from now our fishes and other wildlife bodies will begin to feed on plastics; you can imagine what the consequences would be," Goni said.
The World Wildlife Day is also to raise awareness on the importance of wild animals and plants.
Marine parks are like national parks, but instead of protecting scenic landscapes or biologically important areas of land, marine parks protect scenic and biologically important areas of ocean and coastline.
By Ebere Agozie