The Commander, Army Headquarters (AHQ) Garrison, Maj.-Gen. Kabir Garba, alongside officers and soldiers on Saturday, July 2, 2022, embarked on tree planting exercise within barracks in commemoration of the Nigerian Army Day Celebration (NADCEL) 2022.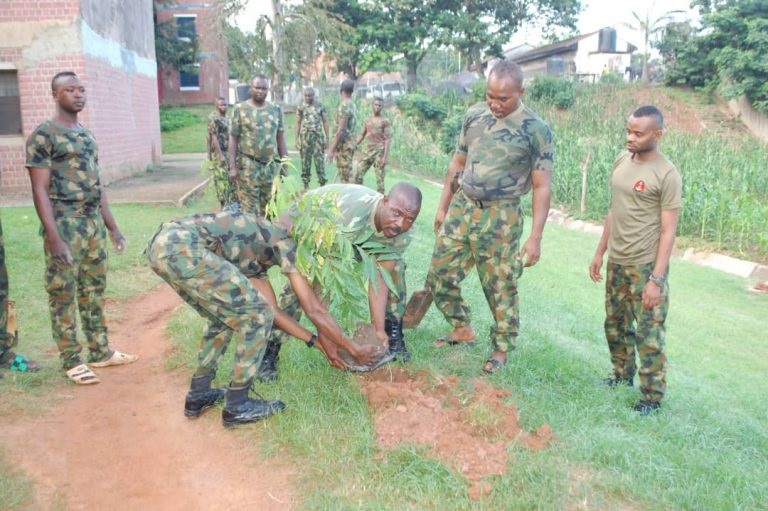 The exercise was conducted within Mogadishu Cantonment and barracks within the AHQ Garrison's Area of Responsibility (AOR) such as Yar'aduwa Barracks and CBA extension.
During the exercise, the commandant said the aim of the exercise was to create awareness by supporting units under his command and the barracks community to take a stand against deforestation and actively participate in greening of environment.
Garba added that the tree planting exercise was also in line with the Chief of Army Staff's position on tree planting, adding that the COAS had always demonstrated it by planting a tree in all the building projects he had inaugurated in recent times.
"It is also worthy to note that the exercise is in line with tree planting campaign of the Commander in Chief of the Armed Forces of Nigeria, President Mohammadu Buhari.
"Buhari has pledged to plant 25 million trees in Nigeria to enhance the countries carbon sink as part of the countries efforts to implement the Paris Climate Change Agreement," he said.
NADCEL is celebrated from July 1 to July 6 every year across army formations and units.
The 2022 edition, which will take place in Owerri, Imo State, had commenced with news conference on Wednesday, follow by the Juma'at prayer on Friday while the interdenominational church services were held on Sunday in all formations.
Other activities lined up include humanitarian outreaches while grand finale would take place on July 6 in Owerri.
By Sumaila Ogbaje