The Kaduna State Government of Nigeria has vowed to complete the multi-billion-naira Zaria water project that will supply water to eight local government areas (LGAs) of the state in July 2017. The project will cost a whopping N69 billion.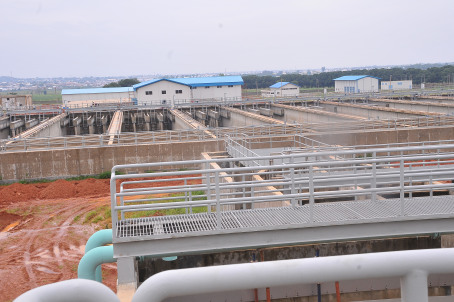 The state government said the work is now 90% completion, stressing that the gigantic water treatment plant would be completed in December while the entire project would be completed next year to end the decades of suffering by residents over unsafe water.
Commissioner for Water Resources, Suleiman Aliyu Lere, made the disclosure recently during an inspection tour of the water project sites.
He said: "We are expecting the whole project to be completed by July 2017, that is the aspect of the construction of the transmission lines and the distribution, but the construction of the water treatment plant will be completed in December and, by that time, there will be serious improvement in the supply of water even before2017.
"By the time we are completing the project in 2017 we would have spent an estimated sum of N69 billion that includes the construction of the water treatment plant constructed by the state government and the dam constructed by the federal government and others already outlined.
"Water requirements currently for Zaria and environs is about 100 million litres a day and what we have on ground is 60 million litres now. Even though, it is not operating at optimal capacity because of the dilapidated nature of the old water works and the challenges of power, but by the time these new ones come on board we will have a total capacity of 210 million litres a day, which will have the potential of not only supplying to Zaria and Sabon Gari with potable water but additional communities within the six LGAs that surround Zaria and Sabon Gari."
The commissioner added: "There are other areas that have to do with expansion and the rehabilitation of the old pipes that has already been laid tens of years ago. There is also the construction of the booster stations that will take water to Zaria and other envisaged local government areas that are to benefit from the project. There is also the water treatment plant that, hopefully, will be completed by the end of this year."
Dr. Henry Kiemeg, Project Manager, Gamji Nigeria Limited, which is handling part of the Zaria water project, complained about some residents who illegally built on the right-of-way, describing the ongoing laying of water pipelines in some areas as a challenge.
Kiemeg, who commended the present administration for its commitment to end water problem in Zaria and environs, said: "The way the Kaduna State Government under Mallam Nasir el-Rufai has supported us, it is on record that, unlike what obtains before now, in the past where government will be pushing you left, right and centre, rather we were given support.
"Real support to deliver and this is unprecedented, this is a great motivation because any contractor that has a smooth way to do your job without any kick back and front, will perform better. We also thank the commissioner who works so hard, diligent and committed."
By Mohammad Ibrahim