The Pacific Northwest is the home to the states of Oregon, Washington, and Idaho. Washington State has its largest city, Seattle, in the very heart of the King County.  The city of Seattle is bordered by a body of salt water (Puget Sound) to the west and a freshwater lake (Lake Washington) to the east. It's interesting to know that both Puget Sound and Lake Washington were carved by glaciers.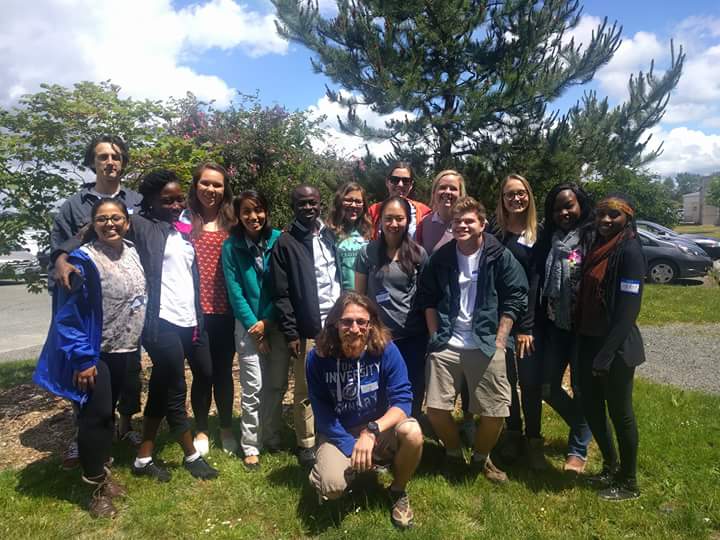 EarthCorps is a non-profit organisation, located in Magnuson Park, Seattle, Washington. It was established by a nature-loving Peace Corps volunteer, named Dwight Wilson. Wilson saw the need to urgently take action in restoring Seattle's large urban forests from destruction by invasive weeds and, in 1993, he and some other friends took action in an experimental programme named Cascadia Quest. The corps programme was born when this effort grew into a year-round intensive service for futuristic young leaders.
More so, 25 years later, I am happy to say that EarthCorps is pushing boundaries by innovating ecological practice, evolving how people learn leadership, and engaging diverse communities in hands-on environmental restoration activities. Indeed, this foot is achieved with the effort of hardworking volunteers (International and AmeriCorps), staffs and sponsors!
It's on record that EarthCorps opens an application window every year, around August, for environmentalists and environmental workers in all parts of the world who have proved to have some field working experience to be a part of a global community of people helping to restore the health of our environment, in Seattle, Washington.
Yours sincerely, Surajdeen Alabede, from Nigeria, is one of the international volunteer corps members selected to participate in this year's exercise. Both the International and United States' (AmeriCorps) volunteers will be on the field to exchange perspectives, learn through service and to remove invasive weed and plant native trees.
The International Corps Members are expected to return home after a six-month (June to December) field-based service-learning programme to implement projects and share what they have learned with their organisations and communities.
It has been an inspiring experience meeting with other participants from countries like Kenya, Cameroon, Georgia, Philippines, Brazil, Indian and the United States. We all left our various countries to the United States with a common goal of changing the world by restoring the health of our damaged environment.
The first week of the programme has been productive, learning about the organisation's culture, leadership philosophy, ecological restoration, cross-cultural communication, cultural adaptation, safety techniques, tool use and Pacific Northwest history and ecology.
Lindsey, an EarthCorps worker, did justice to the ecological restoration topic. And it's amazing to know that the English Ivy and Himalayan Blackberry have been the most aggressive invasive species of plant found in this region and they have done lots of damages to our environment. It takes a huge effort removing them and installing native plants like the conifers and maples.
Native plants installed help to enhance the aesthetic value of the city, attract native birds and butterfly species, that is, a good function is created by putting the right ecological structure in place.
The safety class covers the need to be safety conscious all the time. Paula, the safety instructor, made it known that Personal Protective Equipment (PPE) should not be toyed with and proper ergonomics must be maintained at all times when going to the field for restoration exercise.
I would love to close this week's episode of my writing with one of the beautiful lines of the organisation's leadership philosophy that reads, "Everyone can grow to be an effective leader." Truly, effective leaders are not born, but rather made, through the way they handle things and deal with people around them.
Till next week when I come your way again, always keep eyes on this space!
By Alabede Surajdeen (Environmental International Exchange Fellow at EarthCorps, Seattle, Washington, USA; alabedekayode@gmail.com, @BabsSuraj)