More residents were evacuated from their homes in the English town of Whaley Bridge late on Saturday, August 3, 2019 as authorities feared incoming bad weather increased the risk that a damaged dam wall could burst.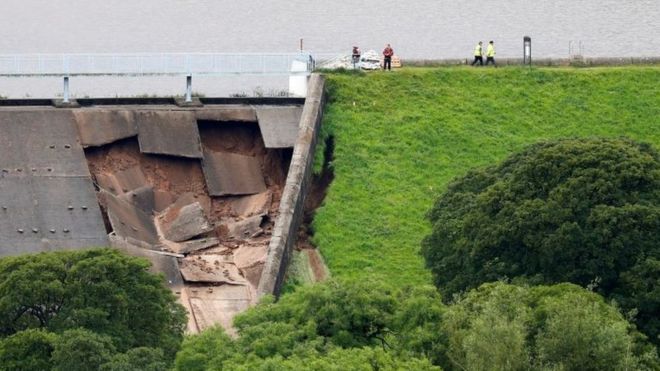 Derbyshire Police said. that two days after some 1,500 residents fled, a further 55 homes were being evacuated "due to a potential increase in risk of adverse weather in coming days and the ongoing risk of the Toddbrook Reservoir breaching".
Earlier on Saturday, residents were briefly allowed to return to their homes to collect essential belongings and pets as rescue crews worked to repair the partially collapsed dam wall that threatens to burst and flood the town, the Department for Environment said.
A Met Office yellow weather warning is in place on Sunday for much of northern England and the Midlands, including the area around the reservoir.
The government said military helicopters dropped over 400 sandbags against the damaged wall and operations to pump away water continued as levels at the reservoir had been reduced by 1.3 metres since Thursday.
However, "the state of the dam is still in a critical condition and that the risk of breach is still a very real threat," Chief Superintendent Michelle Shooter said.
Dan Curley, a 28-year-old owner of a local pub, said he had returned to his house on Saturday despite the risk.
"I just wanted to get some clean clothes for my little boy and some food for the dog," Curley said, according to the Press Association (PA), adding that any financial losses his pub incurs would be covered by insurance. "I just want to get back to normal now."
Fire brigade chief Terry McDermott said the engineers working to repair the dam were "very unsettled" by the current situation.
"Everyone is working as hard as possible to get ahead of the curve and remove as much water as possible today, overnight and into tomorrow, to minimize the impact of any bad weather that does materialize," Deputy Chief Fire Officer Gavin Tomlinson said. On Friday British Prime Minister Boris Johnson met rescue crews working to repair the reservoir, which sits above the small Derbyshire town.