The District Head of Auyo in Jigawa State, Alhaji Umar Baffa, wept openly on Saturday, September 22, 2018 over the devastation caused by flood in Auyo town and other villages in the district.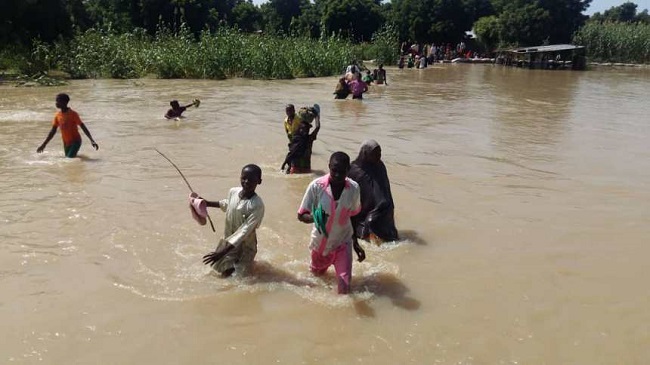 Baffa, who holds the title of Sarkin Auyon Hadejia, said at his palace that the flood, caused by the overflow of the Hadeja-Jamaare River, completely submerged the town and neighbouring communities.
"Three of my people died and properties worth N3.5 billion were lost in the flooding that submerged the town and some villages in my domain.
"For two days, water was overflowing from the Hadejia-Jama'are River to Auyo and, before we could do anything, the water submerged the town and the neighbouring villages.
"The villages included Jura, Rafeji, Uza, Gamakwai, Zabaro and Ayama, among others.
"In the process, three people got missing and we immediately put up a search team and their bodies were later found.
"Many houses, farmlands, animals and other properties were destroyed during the flooding," the monarch said.
A businessman, Alhaji Isa Auyo, who lost 10 trailer loads of fertiliser, said it was a devastating experience.
"You can see the whole town is submerged; all the people have deserted the town and are now taking refuge in various Internally Displaced Person (IDPs) camps across the state.
"I am really worried about the plight of the people and I appeal to the government, individuals and corporate organisations to rescue us from this catastrophe.
He said that the state government had already undertaken an assessment of the damage and brought food and medicines.
Auyo added: "This is not the first time we are experiencing this episode in Auyo town, we had similar incident in 2001, but the current one is more devastating.
"I am appealing to the Federal Government to look into ways of tacking this recurring phenomenon.
"We were told that the water was from River Congo which overflowed through Cameroon to Lake Chad Basin is causing havoc in many places in Nigeria.
"I urge the federal government to do something to control the water so that that it can pass through our rivers with low velocity without causing any harm to us.
"I also want the Federal Government to include Jigawa among the 11 states where a state of emergency was declared over flooding."
By Abdullahi Shugaba