The World Meteorological Organisation (WMO) says torrential rainfall across the globe is responsible for the exponential increase in the damage caused by floods in the past decades.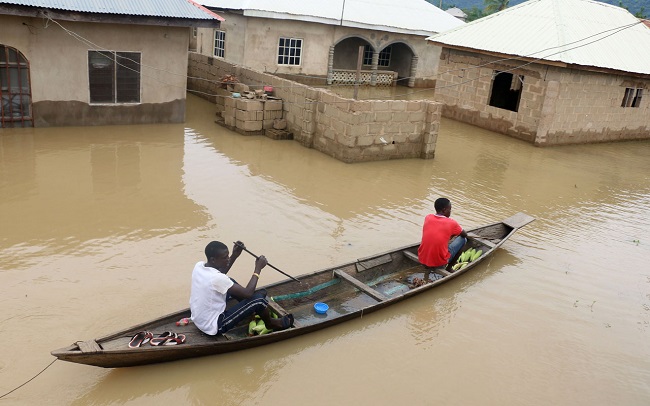 Nigeria had devastating experience in 2012, in which valuable property and lives were lost. Experts have continued to proffer solutions on how to minimise the effects of flooding.
Mr Clement Nze, the Director-General, Nigeria Hydrological Services Agency (NIHSA), said adverse effect of flooding could be minimised through adherence to town planning regulations.
Nze cited example of recurring flash floods, along Mararaba, Masaka areas in Nasarawa State, which he attributed to failure to enforce town planning laws.
According to him, prohibiting erection of buildings on drainage, providing adequate drainage systems and not dumping refuse on waterways would reduce the incidence of flash floods in Mararaba.
"Like what happened in Lugbe in FCT, Mararaba in Nasarawa State, is either there are inadequate drainage systems or the drains are blocked by human beings; what we called anthropogenic activities of man.''
Nze stressed the need for governments at all levels to enforce town planning regulations, in order to forestall flood whenever it rains.
He decried the attitude of some Nigerians who dump refuse into water channels, adding that the act contributes to flooding.
Nze said that the NIHSA, as one of its major mandates, has been organising Annual Flood Outlook (AFO), to sensitise the people on the effects of flood.
He said that the mandate of AFO is to sensitise the public, especially those living in the coastal states- Lagos and South-South region, including the low-lying cities like Makurdi and others.
"The AFO of NIHSA is in line with its statutory mandate, that is, to issue forecast on flood, sensitise Nigerians on flood management, aimed at mainstreaming disaster reduction for sustainable socio-economic development. "
According to Nze, the sensitisation embarked upon by the agency across the country and the efforts by stakeholders on mitigation exercise have reduced and prevented flooding in some areas predicted in the previous years.
An environmentalist, Mr Emmanuel Yerima, on his part, urged relevant government agencies, the general public to take seriously early warning signs of flooding and take proactive measures on risk reduction in communities prone to flooding during rainy season.
Yerima, a member of Nigerian Environmental Society, gave the warning against the backdrop of recurring floods that washed away communities and their crops during the previous and the current rainy seasons.
"I have been noticing that whenever we are into the rainy season which may bring flash flood at the first instance; flood warning alerts usually come from experts and governments' agencies.
"I think it will be wise for us as a country, I mean experts and relevant government agencies, to always come together to brainstorm, in order to proffer solutions even before we get into the peak of rainy season, '' he said.
The environmentalist suggested that physical barriers that could impede water flows such as dams, flood walls, and spillways among other channels, would help in preventing flooding in the traditionally prone areas.
He also stressed the need for government at all levels to embark on reconstruction and rehabilitation of existing drainage systems critical to flood prevention and management in the most affected sections of the country.
"Early warning without appropriate action is not sufficient to ensure reduction of risks associated with flooding and inadequate management may even worsen the situation.
"Institutions and stakeholders need to make necessary flood emergency planning and management arrangements so that individuals living at flood plains can respond effectively to it," he said.
Dr Emmanuel Eka, another environmentalist, says if proactive steps such as construction of drainage channels as main component of roads are followed, it will mitigate the effect of flood.
Eka, who is also a former lecturer, University of Uyo, advised relevant authorities in all the states likely to be affected by flood, to remove existing buildings erected on waterways to avert havoc in their states.
"On my personal observation, I have discovered that some buildings were already encroaching on the waterways, thereby preventing free flow of water on its natural course.
"And these are some of the reasons why water cannot flow freely, and when this happens, flood will definitely occur, just like we are experiencing it in different parts of the country now."
Mr Mathew Offie, a hydrologist, says application of modern Hydrological Information Systems (HIS) could help the relevant authorities in flood management to minimise flood incidents.
Offie, who is a former Director, Irrigation and Drainage, Federal Ministry of Water Resources, noted that with modern system application, Nigeria could minimize flood situation.
"The primary role of a HIS is to provide reliable data sets for planning, design and management of water resources and for research activities.
"Hydrology is the science of water and is concerned with its states, storages and fluxes in location, time and phase, while information (data) serves a function and is created with some purpose.
"HIS is a logical and structured system to collect data which are subsequently entered into the computer, checked and stored.
"In a HIS, data may be associated, related and combined to provide information in a form suitable to users,'' he said
According to Offie, WMO and the Global Water Partnership (GWP) since 2001 had promoted an integrated approach to flood management through the Associated Programme on Flood Management (APFM).
The APFM's mission, he said, was to support countries in the implementation of Integrated Flood Management within the overall framework of Integrated Water Resources Management.
Offie, therefore, advised the relevant authorities, flood management agencies, to further adopt scientific approach to end flooding in Nigeria.
By Okon Okon, News Agency of Nigeria (NAN)