The Minister of Women Affairs, Mrs Pauline Tallen, on Thursday, October 14, 2021 sought for the removal of obstacles, discrimatory practices and attitude to womens' right to land to boost agriculture activities in the country.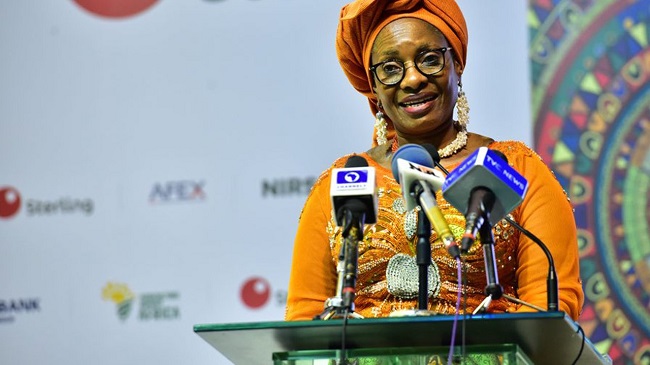 Tallen, represented by the Permanent Secretary, Mr Adebiyi Olufunso, made the call at a media briefing to commemorate the 2021 International Day of Rural Women with the theme: "Rural Women, Cultivating Good Food for All" and the World Food Day in Abuja.
The International Day of Rural Women is annually celebrated on Oct. 15 to raise awareness on the critical roles and contributions of rural women in enhancing agriculture and rural development, ensuring security and the eradication of poverty.
According to her, rural women constitute about 80 per cent of the Agriculture labour force, but they face numerous challenges such as poverty, insecurity, poor basic amenities that hinder their potential and contributions on a larger scale.
She explained that removing obstacles to women's rights to own land and reforming laws and discriminatory practices could foster an environment of equity for rural women.
She added that "by removing obstacles to womens' right to land, reforming laws and changing discrimatory practices and attitudes, we can foster an environment of equality.
"By ensuring that rural women have enabling environment, market outlets, job security and social protection, we can improve living conditions for their families and nurture their entrepreneurial drive, "she said.
The minister also called for enhanced coordination of policies and programmes of stakeholders and government institutions to empower rural women.
She further called on stakeholders to move from pledges to action to protect the interest and harness the potential of rural women, which would ensure food security for all and enhance national wealth.
Ms Comfort Lamptey, the UN Women Country Representative, advised policy makers to strengthen food production by putting into consideration the differentiated needs and resources of rural women and men.
"Unequal power relations between women and men in the household and society and prevalent violence against women and girls results in unequal access to food and heightened experience of hunger, malnutrition and food insecurity" she said.
Lamptey, represented by Ms Patience Ikechukwu, the programme officer for community engagement and social cash transfer, said the organisation was implementing women economic programmes targetting 12,500 rural women in agribusiness and cooperatives.
Mrs Asabe Gurama, the representative of the Bank of Agriculture (BOA), advised rural women to take advantage of various bank initiatives to gain access to loan facilities and pledged to partner the ministry toward empowering rural women.
Some rural women at the event said the lack of good roads, insecurity and access to land were some of the major challenges confronting the profitability of their agriculture ventures.
Other stakeholders at the event called for recognition and reward for rural women in consistent food production and security for all.
By Justina Auta