A coalition has been launched under the auspices of the Media and Civil Society Climate Action Coalition (M&CCAC) to promote advocacy efforts andM eliminate barriers to effective, long-term climate change mitigation.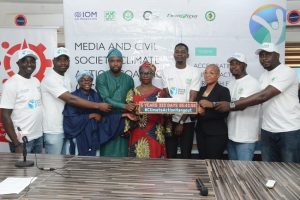 The body, founded by EnviroNews, Lift Humanity Foundation (LHF) and Ecocykle Development Foundation (EDF), was unveiled on Thursday, August 25, 2023, during a Climate Hangout in Abuja that was supported by the United Nations International Organisation for Migration (IOM) and Connected Development (CODE) to discuss how young people can be included in the global climate dialogue.
Pius Oko, executive secretary of LHF and leader of the coalition, lamented that the difficulties faced by climate change are unprecedented and require a collaborative effort from all sectors of society to address them.
According to him, the media and civil society, as custodians of information and champions for good change, have a particular responsibility for amplifying the severity of the climate catastrophe and inspiring revolutionary action.
"The convergence of these two vital forces underscores the critical role that each play in shaping perceptions, influencing policies, and mobilising communities for climate justice," he said.
Oko went on to say that the theme, "Youth Breaking through the Climate Action Obstacles," was carefully selected to highlight the problems that young people encounter when engaging in climate change issues and to foster a collaborative atmosphere where the seeds of change can be planted, nurtured, and grown for a greener, more sustainable world for all.
The LHF boss stressed that in order for young Nigerian activists to effectively influence policies and actions; they must speak with a single voice and demolish the prevalent oppressive biases that have hindered them from making the biggest impact on behalf of their communities.
While commenting on the collaboration, Mr. Michael Simire, chief executive officer (CEO) and publisher of EnviroNews, noted that it was driven by the need to bridge the gap between the media and civil society as a strong front.
Simire expressed his gratitude for his organisation's selection to be a part of the noble partnership, saying that "we will play our part in ensuring that the voices of the voiceless are heard and untold stories are told."
"Let us remember that the power of our collective voices, united in purpose, can move mountains, shift paradigms, and drive meaningful change," he said.
The CEO of EnviroNews exhorted the participants to channel their strength and combined commitment into concrete actions that go beyond rhetoric and pave the way for a resilient and thriving world.
Dr. Aminu Zakari, executive director of the Centre for Climate Change and Environmental Studies (C4CCES), seeks more youth participation and intergenerational mentorship in Nigeria.
Zakari, who spoke about the importance of the media and civil society organisations in accelerating youth participation in global climate talks, bemoaned that Nigerian youths are missing out on a lot simply because they lack capacity.
As a result, he challenged them to rise to positions of power at all levels and help the country meet its Nationally Determined Contributions (NDCs) targets under the Paris Climate Agreement.
Similarly, Michael Mbaike, the head of administration at the West African Green Economic Development Institute (WAGEDI), urged young people in the country to focus on green enterprises as one of the most effective strategies to drive and increase climate change action.
Mbaike recommended that young environmental activists be taught green skills because they are critical to achieving climate goals.
"Circulate your skills around your passion," he advised, citing the need for optimisation in order to successfully undertake green initiatives.
Blessing Ewa, the West African coordinator of Net Zero As Soon As Possible (NZASAP), stated that to adequately address this life-threatening calamity, every young person must be brought on board.
"It is about individual commitment and pledges," she stated, highlighting that passion, not money, propels climate change deliverables forward.
By Etta Michael Bisong, Abuja