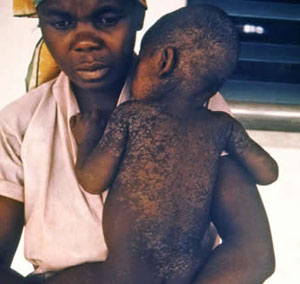 Nigeria faces a renewed risk of losing many children this year to vaccine preventable diseases, arising from potential vaccine stock out.
In 2013, Nigeria experienced a major measles vaccine stock out resulting in the occurrence of 57,892 measles cases with 348 deaths. In 2012, the number of reported measles cases was 11,061, with 126 deaths. This represents more than 500 percent increase in the number of measles cases from 2012 to 2013.
Indeed, the reported number of measles cases in 2013, was the highest in the last six years. Most (78 percent) of the 2013 measles cases occurred in children between the ages of nine and 59 months. Significantly, 88 percent of the children coming down with measles had not received a single dose of measles vaccine. With the measles vaccine stock out in 2013, our national measles coverage rate of 42 percent, about half of the coverage rate of 80 percent for all vaccines, recommended by the World Health Organisation (WHO.
Nigeria also has the largest population of people in Africa at risk of contracting Yellow Fever; yet vaccine coverage was at an alarmingly low rate of 35% in 2012; also as a result of stock out of the Yellow Fever vaccine. Vaccine stock outs are regular and frequent features of health care delivery in Nigeria. In 2013, there were stock outs of the BCG, Hepatitis B and Yellow fever vaccines at various times during the year1. According to the October 2013 edition of the Routine Immunization and Logistics Feedback, published by the NPHCDA, the anticipated stock out dates for EPI vaccines are – DTP and Measles (January 2014), BCG and HepB (February 2014), TT (March 2014), OPV (April 2014) and the DPT+HepB+Hib combo (May 2014).
We had exhausted our stock of yellow fever vaccine since December 2013. While some frantic efforts have been made to procure more vaccines, the current stock level of vaccines will be completely depleted by March/April 2014. With the 2014 budget yet to be approved by the National Assembly, the Federal Government may not be able to release funds on time to procure vaccines needed for the rest of the year.
For some vaccines, it takes up to six months or more between placing an order and delivery. It is therefore crucial that funds are released on time to ensure that we do not experience vaccines stock out and shortages. Delay is not only dangerous but deadly to the 6-7 million annual cohort of Nigerian children, left unprotected in the absence of vaccines. Vaccine preventable diseases still account for about 40 percent of all childhood deaths in Nigeria.
Vaccines are fragile and cannot be kept on shelves like biscuits and pure water. Vaccines are manufactured on demand; the needed quantity ordered and paid for far in advance of the anticipated time or period of use. To compound the problem, Nigeria imports every dose of an estimated 130 million doses of vaccines needed to fully vaccinate our annual cohort of 6-7 million new born Nigerian children. It is indeed a matter of shame and distress for the so called GIANT OF AFRICA to remain so blatantly impotent on this issue of vaccine production.
It is about time for Nigeria to seriously, vigorously and efficiently pursue the manufacturing of some vaccines locally. The current feeble and half-hearted attempts must give way to a purposeful policy. Given the way our government works, it may be more efficient to fully and completely engage the private sector in the production of vaccines in Nigeria.
Government should then play a regulatory role in ensuring that safe and efficacious vaccines are produced. Past government involvement in vaccine production has followed the well-known patterns of vehicle assembly plants and power generation disasters. We dare not involve the ponderous hands and grubby fingers of government in such a delicate project of vaccine production.
Finally, The Federal Government needs to amend the national policy, to put immunization funding on first-line charge in the annual budget; which means that funds for immunization can be accessed directly once the national budget has been passed.
By Oyewale Tomori (President, the Nigerian Academy of Science)