Newly elected C40 Chair, Los Angeles Mayor Eric Garcetti, alongside the mayors of cities worldwide including Copenhagen, Paris, Rio de Janeiro, Sydney and Tokyo, on Wednesday, October 9, 2019 announced their support for a Global Green New Deal and recognised a global climate emergency.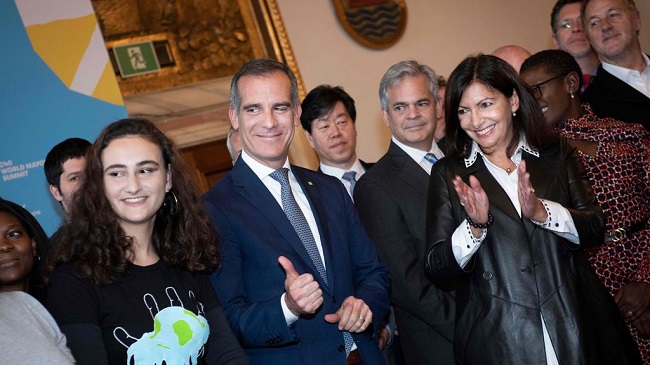 The broad coalition – including youth climate activists, and representatives from labour, business and civil society – announced their support for the Global Green New Deal vision as mayors of the world's largest cities warned that the planet is in a state of climate emergency.
The message was issued by city leaders attending the C40 World Mayors Summit in Copenhagen. Their call came in response to intergovernmental action being blocked by a minority of very powerful, science-denying governments, representing the interests of the fossil-fuel industry.
Through the Global Green New Deal, cities have reaffirmed their commitment to protecting the environment, strengthening the economy, and building a more equitable future by cutting emissions from the sectors most responsible for the climate crisis — transportation, buildings, industry, and waste — to keep global heating below the 1.5°C goal of the Paris Agreement.
This includes putting inclusive climate action at the centre of all urban decision-making to secure a just transition for those working in high-carbon industries and correct long-running environmental injustices for those disproportionately impacted by the climate crisis – people living in the global south generally, and the poorest communities everywhere.
The Global Green New Deal was immediately endorsed by those also committed to the level of action determined by science – including business leaders, investors, the labour movement, civil society, indigenous groups, informal settlement representatives and groups disproportionately impacted by climate change and poverty. Mayors Garcetti, Hidalgo and Jensen issued a clear challenge to national leaders, CEO's and investors that haven't yet matched the level of ambition detailed in the Global Green New Deal.
"As mayors our first priority is to protect the safety of our citizens," said Mayor of Paris and C40 Chair, Anne Hidalgo. "It will soon be four years since the Paris Agreement was signed in our city. World leaders met in New York just last month and once again failed to agree anything close to the level of action necessary to stop the climate crisis. Their ineptitude directly threatens all people around the globe as time keeps running against us. There is no other solution but a Global Green New Deal to be the pivotal instrument to win this race against the clock. All decision-makers must take responsibility in making it a reality"
"When it comes to climate action, no one is doing more than cities, but no one is doing enough," said Mayor of Los Angeles Eric Garcetti. "We are entering a make-or-break decade for the preservation of our planet and environmental justice for every community — and I am proud to lead C40 cities at this critical moment. Together we will continue leading the drive to protect the world and promote a better, more equitable life for everyone living in it."
Lord Mayor of Copenhagen, Frank Jensen, said: "Copenhagen recognizes the climate emergency and commits to the Global Green New Deal because climate change is the greatest threat to security, public health and prosperity. We need to act now – and we need to act together. There is no need to hesitate: cities already have many of the green solutions needed."
"As the need for bold climate action grows more urgent, mayors and cities are leading the way and getting results," said Michael R. Bloomberg, C40 Board President, UN Secretary-General's Special Envoy for Climate Action, and Mayor of New York City 2002-2013. "Together, C40 cities have taken thousands of successful actions to reduce carbon emissions, and they are proving how fighting climate change helps drive economic growth and improve public health. There is no time to waste."
"Cities are where the climate battle will largely be won or lost," said United Nations Secretary-General António Guterres. "At September's Climate Action Summit at the United Nations, at least 70 countries and 100 cities agreed to enhance their national plans by 2020 – we must build on this momentum. Cities are at the heart of this race, and I congratulate the C40 on its leadership at this critical moment."
Alexandria Ocasio-Cortez, U.S. Representative for New York's 14th Congressional District, said "I am inspired by this coalition and the commitments made for a global Green New Deal. If we work to join forces globally, we will be able to defeat our greatest threat and realize our greatest opportunity."