The popular tag of "COP of action" popularly associated with the recently held UN climate change summit (COP22) in Marrakech, Morocco has been countered.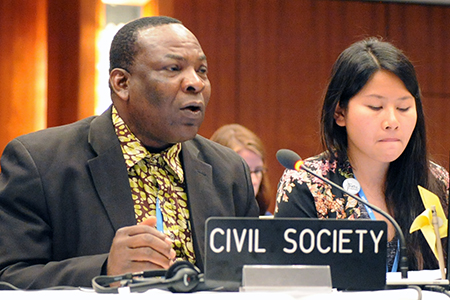 Instead, the global conference that featured the 22nd Session of the Conference of the Parties (COP22) to the United Nations Framework Convention on Climate Change (UNFCCC), 12th Session of the Conference of the Parties serving as the meeting of the Parties to the Kyoto Protocol (CMP12) and First Session of the Conference of the Parties serving as the meeting of the Parties to the Paris Agreement (CMA1) has been labelled "COP of inaction".
Executive Director, Environmental Rights Action/Friends of the Earth Nigeria (ERA/FoEN), Dr Godwin Ojo, who made the submission, attributed this to the fact that "all that was achieved in Marrakech was to plan for another COP".
According to him, the time was nigh for civil society organisations (CSOs) to take a closer look at the entire process.
He said: "We have reached a crossroads, and CSOs should come together to evaluate the COP process; to see if we can work within planetary boundaries, and to see if we can keep the rising earth temperature below 20C. Has the COP the answer to reducing the rising temperature?"
Dr Ojo, who spoke during a recent gathering in Lagos to publicly present the book, "Nigeria beyond oil", frowned at the carbon market, saying: "Climate change is happening on a monumental scale, but certain parties are busy promoting trade in carbon. This is faulty, as solutions that are monetised will not work. Those responsible for the situation have shied from their responsibility."
He described Nigeria's commitment to the implementation of the Paris Agreement as "zero".
His words: "We have nothing on ground to reduce emission. Gas flaring continues unchecked, even after several shifting of the goal post. Now, the government is saying flare-out date is 2030. We consider this a serious retrogression and a direct slap in the faces of the people of the Niger Delta.
"International communities are dictating Nigeria's policy. Indeed, nothing on ground indicates that Nigeria will reduce carbon emission as we are fully dependent on hydrocarbons and there are no alternatives. There is need for a New World Order.
"What is Nigeria's position regarding the Africa Renewable Energy Initiative? Where is Nigeria's position here? What have we to show that we are in tune with the initiative? Nigeria at this point is talking about coal, bitumen and nuclear energy sources. This is a retrogressive statement because these are obsolete sources of energy."