The Marine Regions Forum that held from November 7 to 9, 2023, in Dar es Salaam, Tanzania, empowered participants and kept them at the forefront of ocean governance processes.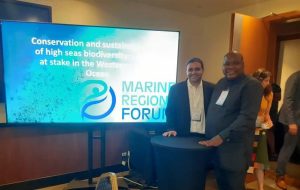 This disclosure was made by Anthony Akpan, President, Pan African Vision for the Environment (PAVE),  who attended the conference, themed: "Navigating Ocean Sustainability in the Western Indian Ocean and Beyond".
According to Akpan, the conference provided a unique space for actors from science, politics, civil society, and the private sector to discuss and showcase impactful collaborative solutions for ocean health and the Blue Economy.
It was co-hosted by the United Republic of Tanzania and the Republic of Seychelles, in cooperation with the Nairobi Convention Secretariat and regional partners.
He said: "The in-person conference explored what is needed to enhance cooperation and coordination to advance ocean governance within the Western Indian Ocean region and beyond.
"While the conference has a regional focus, it also promotes interregional knowledge exchange. By facilitating open dialogue and disseminating emerging recommendations, the Marine Regions Forum contributes to the implementation of Sustainable Development Goal 14.
"The Marine Regions Forum is coordinated by the Research Institute for Sustainability (RIFS), the Institute for Sustainable Development and International Relations (IDDRI) and the Think Tank for Sustainability (TMG)."