The Maida programme is building livelihood and dismantling energy poverty in Borno State. Launched in 2018 with financial support from the European Commission (EU), the programme aligns with the EU's overall objective of building the resilience of conflict affected people and communities in Borno State in an environment-friendly way.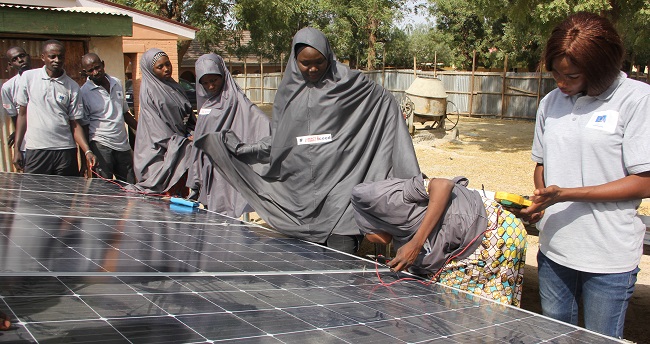 Maida as a noun in Hausa language means recovery, while as a verb, means to convert, reimburse and refund. Whether as a noun or a verb, it connotes rebuilding livelihood.   Maida is implemented by Mercy Corps, an international organisation with global expertise in fostering resilience in complex environments, and the International Centre for Energy and Environment (ICEED), an organisation with proficiency in energy and climate-change initiatives across Nigeria. The programme supports the recovery of up to 200,000 men, women,  adolescent boys and girls, who are returnees, IDPs and host community members in  Borno State.
As a strategy for implementing a programme that generates a high-impact in a fluid context like Borno State, Maida touches on agricultural livelihoods, agroforestry, conflict management and peace building, adolescent youth unemployment, livelihoods and access to energy. Access to household energy is vital to improve livelihoods; however, this is often highly constrained in conflict-affected areas. Poor energy access can have a debilitating effect on the recovery and resilience of conflict affected populations. Access to fuel-efficient stoves, cooking fuel and lighting is usually a minimum standard in humanitarian response.
However, while clean cookstoves and lighting are all recognised as life-saving non-food items provided to IDPs, these minimum requirements are not often met. The energy access strand of Maida, which commits to addressing these challenges is implemented in six local governments of Borno State. These include Jere, KwayaKursar, Biu, Hawul, Mafa and Bama.
The programme will deliver market aligned vocational trainings for youths on sustainable household energy solutions. Solar energy solutions would be delivered to households and institutions, including efficient woodstoves that would also be delivered to households across the local governments. There are extremely high levels of unemployment and underemployment among youth in Borno State; both adolescents and young men and women generally, and anger is common among young people. The acquisition of technical skills, expands economic opportunities and reduces inequality, which constitute a significant source of grievance, particularly for vulnerable youth who feel they have few ways to get ahead with life.
So far, under Maida, 45 young and adolescent men and women have received technical trainings on solar system design, installation, and maintenance. Another 64 young and adolescent men and women have also been trained on the use of local materials to produce efficient woodstoves. To increase access to finance, trainees also received business development instruction on sales and after sales services. This culminated in the formation of cooperative organisations in both solar system and efficient woodstove businesses. Trained artisans already started producing efficient stoves that have proven efficiency capacity of 60%. This cuts down the frequency of households foraging into the bushes for woodfuels, and brings down the incidences of fire outbreaks in IDP camps, smoke inhalation, which, according to the World Health Organisation is the third highest killer in Nigeria after HIV and malaria.
Maida fits into the Buhari Plan for the North East which, among other actions, supports the restoration of livelihoods, generates jobs, facilitates peace building, and rehabilitates and resettles the IDPs. The programme also puts the country along the path towards achieving SDG 3 – Good health and well being for all people, SDG 7 – Access to affordable, reliable, sustainable and modern energy for all, and SDG 13 – Urgent action to reduce climate change and its impacts. Maida is a win-win programme for both the Borno State Government and Nigeria.
The limitations of the traditional humanitarian sector are continually being tested and increasingly visible. Maida has come in as a veritable plugin between humanitarian response and development governance. Moving forward, Maida will build the technical and business capacities of 140 male and female youths on solar system design, installation, maintenance, sales and after sales services. A similar training will be organised for another 140 male and female youths on efficient stoves production and sales. These trained artisans will receive cash grants for business start up in both solar and stove production and sales.
In addition, Maida will provide access to solar electricity to 12 health and educational institutions and 650 homes across the six local governments. Provision of electricity to health institutions will enhance service delivery, including reduced maternal and child mortality. For education institutions, the school environment will be better illuminated thus enhancing the learning experience of students while they undertake after-dark readings.
The installation of of solar home system will improve household lighting and eliminate dependence on smoky lighting, appliances currently used by the majority of households. Maida will identify the most vulnerable and at risk households, and distribute 10,000 efficient stoves, which would be produced by the trained artisans. This approach stimulates the local efficient stove industry, thus creating livelihood opportunities for the trained artisans.
By Unico Kalu Uduka (Maiduguri, Borno State)