Delegates from around the world are meeting virtually over the next three weeks for the UN Climate Change Conference, to advance work on addressing climate change globally ahead of COP26 in Glasgow in November 2021.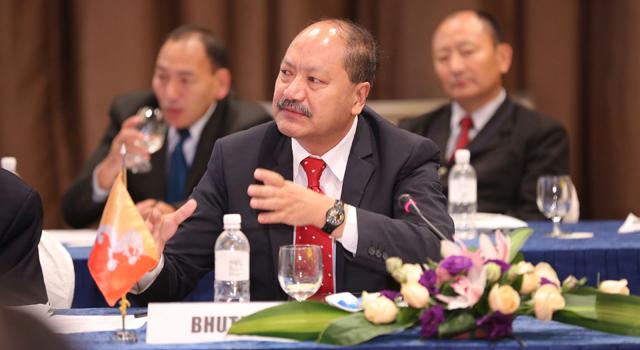 Ahead of the session, Mr Sonam P. Wangdi, the Chair of the Least Developed Countries (LDC) Group, said: "Our people are amongst the worst affected by the climate crisis despite doing the least to cause it. We're ready to advance fair and ambitious global climate action to protect our communities and ensure a safe future for our people and the planet."
As well as progressing technical issues on the implementation of the Paris Agreement, the meeting presents an opportunity for renewed focus on the climate crisis.
"National pledges submitted under the Paris Agreement remain far from enough to limit warming to 2°C, let alone 1.5°C. Governments must step up their commitments before COP26 to close this gap. Long term targets must be backed by concrete plans to immediately and significantly reduce emissions," said Mr Wangdi.
The annual G7 Summit coincides with the UN climate talks. As leaders from the world's largest advanced economies prepare to meet in Cornwall, UK from June 11 to 13.
Mr Wangdi called on the Group of Seven and guests to "take the lead in addressing the climate crisis", saying "these advanced economies must do their fair share in addressing the climate crisis. Vast emissions reductions are needed, as well as scaled up support for vulnerable countries who are bearing the brunt of climate impacts."
Noting that climate finance remains well below the $100 billion that developed countries committed to providing annually by 2020, Mr Wangdi emphasised that "our countries urgently need support to address the climate crisis. Climate finance is a key piece of delivering the goals of the Paris Agreement. Financial support is needed so our countries can adapt to climate impacts and build the resilience of our communities; so we can leap-frog to low-carbon development pathways to advance our economies and lift people out of poverty without relying on fossil fuels and adding fuel to the fire; and so we can deal with the loss and damage that climate impacts cause.
"We look forward to the G7 delivering on promises to generate financial support to help poorer nations start a green industrial revolution and withstand the worsening impacts of climate change.
"With the covid-19 pandemic exacerbating existing challenges for our countries, international support and solidarity is especially critical right now."
The Least Developed Countries Group is made up of the 46 poorest countries, which disproportionately suffer from the ever-increasing impacts of climate change, despite reportedly contributing the least to global warming. Representing almost one billion people throughout Africa, Asia-Pacific and the Caribbean, the group negotiates as a bloc in UN climate negotiations to secure fair and ambitious action on climate change.