The Lagos Waste Management Authority (LAWMA) says it will begin the sealing of homes without waste bins on Lagos Island and Mainland from July 7.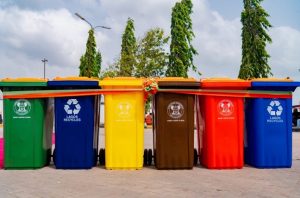 This is contained in a statement issued by LAWMA Executive Director, Finance, Mr Kunle Adebiyi, on Wednesday, July 5, 2023, in Lagos.
Adebiyi said the decision followed an earlier issuance of abatement notices to the affected areas two months ago.
He urged property owners and residents to procure adequate waste bins for their homes.
"It is crucial for residents to cultivate proper environmental habits and support the efforts of the authority to establish a cleaner and more livable environment.
"By taking action against violations and ensuring compliance, we can create a sustainable environment and help build the Lagos of our dream," Adebiyi said.
He said that the notice of intention to seal would serve as a final warning to residents who were yet to procure the bins and maintain proper waste management practices.
Adebiyi added that the enforcement action was aimed at encouraging responsible environmental behavior and to reduce pollution in the city.
"LAWMA's Enforcement Team will target areas on Lagos Mainland and Island, where violations have been observed.
"The team will carry out thorough inspections to identify individuals, households, or businesses that have consistently neglected waste management guidelines.
"Those found in violation will receive an intention to seal notice, outlining the specific actions required to rectify the situation and avoid further penalties.
"The exercise will be in phases; this is the phase one, and we will visit other areas in the state to ensure full compliance," Adebiyi said.
He, however, urged residents to take responsibility for maintaining a clean and healthy environment for all.
Adebiyi noted that by adhering to waste management regulations, residents could contribute to the overall cleanliness and sustainability of the environment.
"By adhering to government's directive for tenements to procure standard covered bins would ensure that our wastes are properly containerised.
"This will help save the environment from indiscriminate waste disposal and other hazardous consequences, such as flooding and outbreak of diseases," Adebiyi said.
He said that LAWMA had been working toward improving waste management through the implementation of various initiatives such as waste sorting campaigns, recycling programmes and public awareness campaigns.
Adebiyi said that these efforts were skewed toward instilling a culture of responsible waste disposal to minimise the adverse impact of wastes on the environment.
He appealed to residents to join hands with the administration of Gov. Babajide Sanwo-Olu to establish a cleaner and healthier environment.
Adebiyi also enjoined residents to shun indiscriminate waste disposal and take advantage of the waste management services provided by the Private Sector Participants operators.
By Fabian Ekeruche