The Lagos State Waterways Authority (LASWA), in collaboration with a non-profit organisation, MITIMETH, has empowered no fewer than 200 women and youths in turning water hyacinths to handcrafts.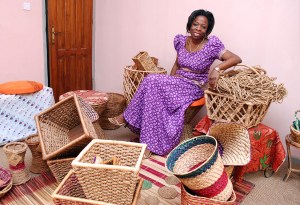 General Manager of LASWA, Mr Oluwadamilola Emmanuel, made the disclosure in Lagos at the opening of a centre for showcasing water hyacinth products as well as a production hub (demonstration centre).
The centre, situated at LASWA Yard, Falomo, Lagos, displays various handcrafts made from water hyacinths.
Emmanuel said at the event that the Lagos State Government was committed to the development of water transportation as well as safety on the waterways as an alternative to road transportation.
According to him, the authority was celebrating partnership with MITIMETH in creating jobs for women and youths through transformation of water hyacinth into products of aesthetic values.
The LASWA boss said there had been a reduction in marine waste since its launch of a waterways clean-up campaign, in collaboration with private stakeholders and the waste-to-wealth initiative.
"The partnership with MITIMETH is built around the common goal of transforming water hyacinth into beneficial use of handcrafted products which has taken place in different zones in the state namely; Epe, Badagry, Ikorodu and Lagos Island.
"We have been able to empower over 200 youths and women in the recycling of water hyacinth.
"It is a partnership that is clearly aligned with global goals, specifically Sustainable Development Goal 17 – Strategic Partnerships," he added.
The LASWA boss commended the non-profit organisation for the partnership, saying that the authority would continue to partner relevant stakeholders to promote water transportation.
The Founder/Creative Director of MITIMETH, Mrs Achenyo Idachaba-Obaro, who described the event as a milestone, commended LASWA for cooperation with the organisation in touching lives.
"We are here today because LASWA has seen the strategic importance of turning the invasive water hyacinth plaguing the waterways of Lagos state into an economic opportunity for communities in Lagos.
"Here we are today with a retrofitted office and production hub which would serve as a demonstration centre for the transformation of water hyacinth and other natural fibers into interior decor and textiles.
"Our goal is to make this space the centre of excellence for promoting water hyacinth diversified products.
"We strongly believe that circular economy innovations will be birthed right here in this space as a result of this public/private partnership between LASWA and MITIMETH," she said.
According to her, MITIMETH has also provided LASWA with a mural to beautify the wall by the pier.
"The mural depicts various activities on the Lagos waterways including the harvesting of water hyacinth.
"We are all about transforming an environmental problem into a beneficial solution. As a social enterprise, we engage people at the bottom of the economic pyramid.
"We asked how we could clean up the waterways while also empowering people economically," Idachaba-Obaro added.
MITIMETH produces home and personal accessories made from invasive aquatic weeds that flourish in Nigeria's waterways.
By Yemi Adeleye