The Lagos State Waterways Authority (LASWA), in conjunction with Green Janitors Sustainable Initiative, on Friday, January 13, 2023, held a sensitisation programme for boat operators, passengers and residents of Badagry on menace of plastic pollution on waterways.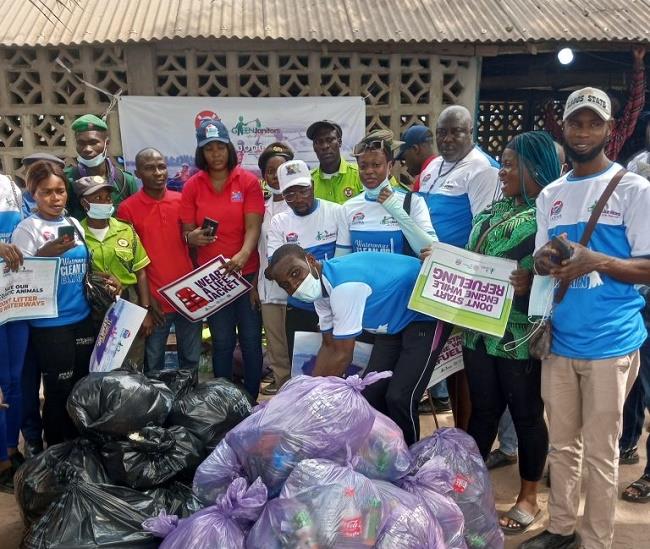 Mrs Nkechi Ajayi, a Public Affairs officer, LASWA, said the authority decided to come to Badagry for the campaign programme because residents are predominantly fishermen and many travel through waterways.
"We are trying to sensitise the people to stop indiscriminate disposal of plastic into the ocean to ensure better quality of life for both human and aquatic lives.
"The World Health Organisation (WHO) has said that, in the next two to three years, the plastic waste in the ocean will be more than expected and this will affect everyone.
"So, we feel it is important that we come to sensitise both the boat operators and the passengers to stop throwing plastic into the ocean," she said.
Ajayi said indiscriminate disposal of plastic is a threat to nature, advising residents against throwing plastic materials into waterways.
"So, we advise the people of Badagry to always dispose their plastic into waste bins.
"All plastic waste materials block our waterways, and they end up affecting us.
"We will also charge our people to use paper and glass cups instead of using plastic or sachet, because paper is easy to burn," she said.
According to her, paper is bio-degradable and decay easily, while plastic can stay for a longer period without decay.
Also speaking, Mr Abdulsalam Ashade, Executive Director, Green Janitors, said the group was collaborating with LASWA to promote a cleaner and safer environment.
According to him, the partnership is to reduce the waste materials on waterways.
"Today, when we learnt that LASWA is coming up with a campaign programme tagged 'Waterways Clean-Up Campaign', we thought it is good for us to partner them.
"This will make us to achieve the same aim which is to have a cleaner and safer Lagos," he said.
The executive director said the group had been sensitising people across communities on the need to keep the environment clean.
"We discovered that the cause of this indiscriminate disposal of plastic waste materials into water is indiscipline.
"So, we believe that with continuous engagement and advocacy, when we have more champions of environmental advocacy, it will reduce the menace.
"We have different people from all walks of life that have joined the initiative to get rid of waste materials and make Lagos cleaner and safer," he said.
LASWA officials, boat operators and passengers used the occasion to pick plastic and other waste materials from the Badagry waterways, around the Marina area.
By Raji Rasak