The General Manager, Lagos State Environmental Protection Agency (LASEPA), Dr Adedolapo Fasawe, has sought collaboration with environmental agencies to enable the agency effectively tackle climate change.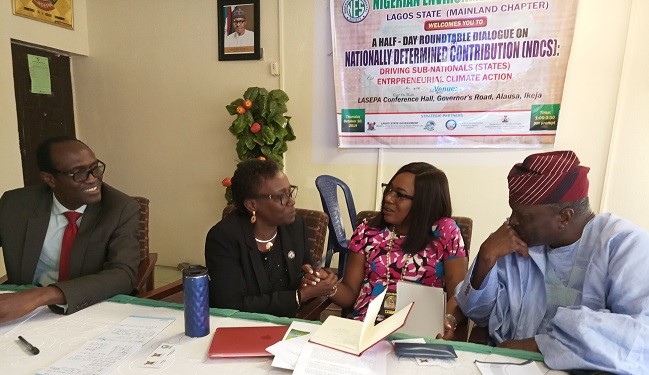 Fasawe sought the collaboration during a Half-Day Round Table Dialogue on Nationally Determined Contribution (NDC), an event organised by the Nigerian Environmental Society (NES), in Lagos on Friday, October 11, 2019.
According to her, sustainability includes practicality and affordability, which is the method that works in U.S. in tackling climate change.
She, however, noted that such method might not work in Nigeria due to different supporting service.
"The problems we have in Lagos is not the same problems we have in the North; Lagos is battling with flooding while northerners are praying for rain.
"We are also battling with blocked drainages; they are battling with desertification.
"When we say climate change does not affect us, it affects us in every way, even in our economy in the quest of looking for money and when we ignore living in a habitable environment, we will end up spending the money on sickness,'' Fasawe said.
She urged environmental agencies and Nigerians to continue educating themselves, on how to tackle the global warming by looking for practical ways to protect one another from pollutions.
Fasawe said that plastic pollution was the major source of flooding in Lagos, adding that there was need to start treating the plastics waste properly by sorting them for recycling.
She said that planting of tress would help in tramping all the emissions while trees planting should be constant to overcome challenges of global warming.
Fasawe said that the Nationally Determined Contribution (NDC), should integrate actions with all major national stakeholders in ensuring solution to the challenges posed by environment.
She said that Environmental Protection Agency (EPA) should be the bandwagon by which NDC's proposed and agreed to achieve sustainable mitigation to climate changes. The LASEPA boss suggested the integration of local EPA's into national environmental actions plan, to enable national decision makers develop and implement strategies to protect human health and the environment.
The Permanent Secretory, Ministry of Environment and Water Resources, Mrs Belinda Odeneye, urged Nigerians to look for ways to reduce the use of plastic to protect them from diseases.
Odeneye also advised Nigerians to make use of the Best Available Technology, Encouraging Local Adaptation (BATELA) to manage their waste and have a healthy environment.
The Executive Director, Centre For Investment Sustainable Development Management and Environment, Prince Lekan Fadina, said if nothing is done to address climate change before 2050, there would be problem in Africa.
"About 73 to 75 per cent, between the ages of 18 and 40, will form Nigerians by 2059 and the population will be about 400 million. The question is, what job do they want to do?
"Climate change is the major challenge in the country. So, there is need to educate people on how to tackle climate change.
"There is need to train Nigerians to man all the critical operations in the country to save a lot of money utilised in hiring foreign consultants,'' Fadina said.
The Chairman, Nigerian Environmental Society, Mainland Chapter, Dr Eugene Itua, said everyone had the responsibility to contribute to the reduction of carbon emission.
He said that the programme was organised to enable state governments understand the need to develop programmes and skills that would help them reap from the opportunities aimed sustaining the environment.
By Aisha Cole