The aftermath of over 72-hours of rain-fueled ocean surge that ravaged Okun Alfa (popularly known as Alfa Beach), a coastal community in the Eti-Osa Local Government Area, Lagos has left the residents melancholic and in turmoil.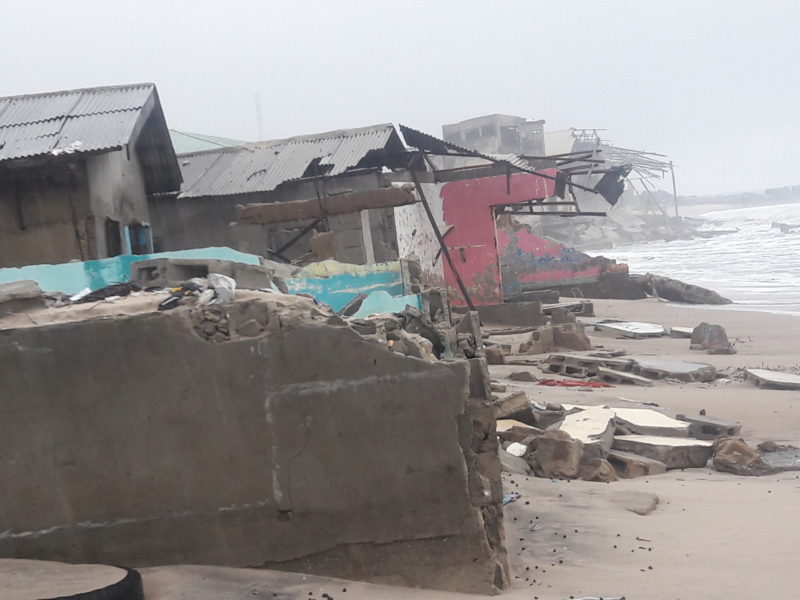 The ocean surge which happened around 9 p.m on September 2, flooded the community, demolished six buildings and destroyed properties worth millions of Naira.The impact of the incessant ocean surge has caused coastal erosion and destroyed the sea breakers at Okun Alfa.
On Monday, Sept. 5, the residents who had all fled when the incident occurred returned to behold the catastrophic effects of the sea that was still roaring menacingly a few metres away from the community.
Noticeable is a middle-aged woman simply referred to as "Iya Sheri", narrating her ordeal to a group of women, while standing in the middle of the flooded Baale Street.
"Someone called me on the phone to enquire about my well-being and to know if my night was restful. I couldn't respond.
"How can I have a restful night when I haven't slept in days. I doubt if anyone can sleep in this community when Olokun (sea goddess) is angry. Everywhere was in chaos, we were running helter skelter towards safety and far from the approaching raging sea," she said.
Indisputably, sustainability of many coastal communities in Lagos is threatened by incidence of ocean surge. The precarious situation of these communities is compounded as sea levels rise and extreme rainfall events become more frequent due to global temperature rise.
Sadly, Alfa Beach, previously a major tourist spot, has lost its appeal, land mass and on the brink of extinction just like Alaguntan, Morekete, Apese, Olukotun, Inupa, Alagbonkan, other coastal communities that have been destroyed.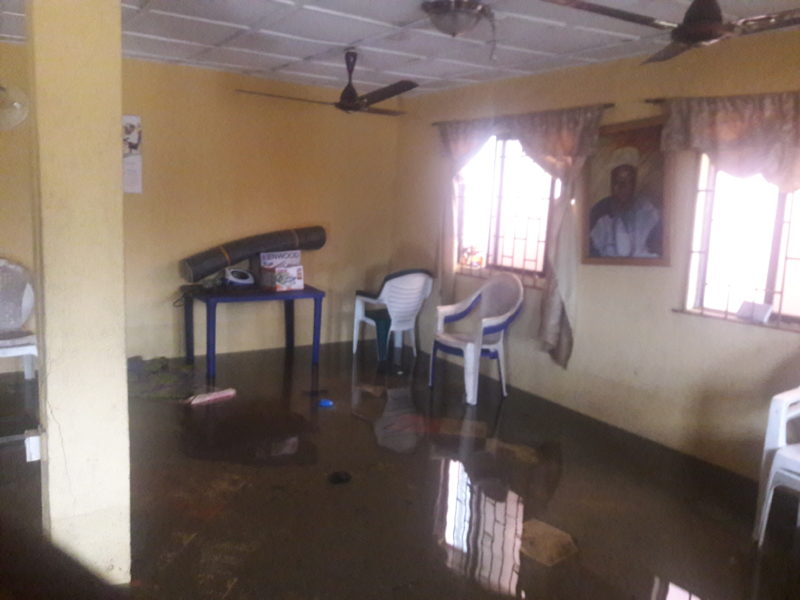 Acknowledging the critical situation of the community, Chief Yusuf Elegushi Atewolara, the Baale of Okun Alfa community, stressed that government should salvage the situation by constructing embankment and reclaiming lost land space.
The traditional ruler noted that the situation had displaced many residents; caused relocation of some from the community and affected the livelihood of several others.
"Before, the population of this community was about 10, 000 but now it has reduced to about 1,500 people.
"This is the third place that we moved to because of ocean surge that constantly ravage our community. Our roads have been washed away and the source of livelihood of many residents have been lost.
"Our fishermen can no longer fish in the water; no more land to farm on, coconut trees in the community have been destroyed leaving the traders with nothing to depend on," Atewolara said.
According to him, the occurrence and severity of the ocean surge had increased compared to previous years.
He said, "In the past, the ocean surge occurs maybe once in three years because our forefathers usually make sacrificial appeasement to the sea goddess to avert the incidence but now we experience it at least twice in a year."
A resident, Mr Ifeanyi Sunday, lamented that he was stranded at the bus-stop for about 30 minutes thereby resorted to trek the distance.
He said, "Most commercial motorcyclists that usually navigate rough and flooded terrain refuse to venture into our streets because they said that the seawater that flooded the street will spoil their motorcycles."
However, some of the residents criticised the ongoing Eko Atlantic City Project, saying that the construction had aggravated coastal erosion and ocean surges in the community and other coastal region around Lekki to Eti-Osa axis.
Notably, recognising the disastrous effects of incidence of ocean surge on its coastline, the Lagos State Government earmarked N36 billion to tackle the menace. The fund is for construction of 18 groynes (sea breakers), at intervals of 40 metres between Goshen Estate and Alpha Beach.
Meanwhile, Dr Ako Amadi, Executive Director, Community Conservation and Development Initiatives (CCDI), noted that before residents started settling, there should have been an Environmental Impact Assessment (EIA) of Alfa Beach, to ascertain if the area was suitable for human settlement considering the vulnerability of Nigeria's shoreline to accelerated sea level rise and coastal erosion.
"For about 30 years, there has been warning concerning it but no one seems to be concerned.
"Very long ago, they should have put measures to stabilise the coastal areas through embankment, replenishing the areas with sand and through planting of vegetation to ensure the soil are compacted.
"Anytim, there's ocean surge people run to government, this is nature and government cannot control it," the marine biologist said.
On the speculation that the ongoing construction of Eko Atlantic City had worsened the ocean surge in other coastal communities, Amadi said, "It is possible but there is no scientific proof to back their claim for now." However, he noted that construction of the Eko Atlantic City took place without an Environmental Impact Assessment.
The expert said, "What has been happening on the coast is a very messy situation. One person lives here and another there, everyone accusing each other.
"The thing is that they have all committed an environmental crime by not looking at the risk factor before settling where they decided to settle and now they are all paying for it."
Corroborating Amadi, Dr Ibidun Adelekan, Lead Researcher, Coastal Cities at Risk (CCaR-Lagos), stressed that discouraging people from settling in coastal areas and enforcement of building control would reduce the destructive effects of ocean surge on residents.
She emphasised that the rising sea levels occasioned by climate change would make future impact of ocean surge more devastating in the state.
According to her, protecting the city by fast tracking investment in structural defences would safeguard not only the vulnerable poor residents in coastal rural communities but also the numerous estates along the coastal Eti-Osa axis.
By Funke Ishola