A group of civil society organisations (CSOs) has taken up an initiative to build peace and social cohesion in the Lake Chad Basin through cooperative water resource management. A kick-off meeting to that effect was held from December 2 to 3, 2019 in Yaoundé, Cameroun.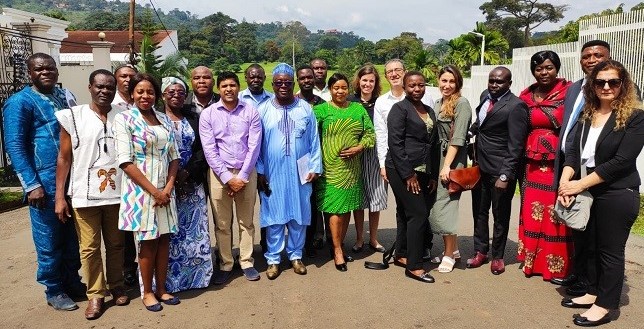 The preliminary meeting, according to the project promoters, offered an opportunity to explore the complex landscape of political actors and civil society directly or indirectly involved in the management of the Lake Chad Basin, with the aim of gaining an initial assessment of the needs and challenges that civil society face in the region and the opportunities that practices and tools of environmental peacebuilding can offer to strengthen the role of civil society.
Anthony Akpan, President, Pan African Vision for the Environment (PAVE) and Paul Guy Hyomeni, Réseau camerounais des organisations de droits de l'homme (RECODH), or Cameroon Network of Human Rights Organisations (CNHRO), were among participants at the workshop on "Supporting Civil Society Organisations from the Lake Chad Basin in Building Peace and Social Cohesion through Cooperative Water Resource Management".
The meeting was facilitated by EcoPeace Middle East with the Support of Konrad Adenauer Stiftung (KAS). Opening remarks were given by Anja Berretta, Resident Representative and Director, KAS; and Giulia Giordano, Head of the Programme on Water Security, EcoPeace Middle East. Gidon Bromberg, Co-Director, EcoPeace Middle East and Rana Qaimari, Educational Manager, EcoPeace Middle East, made a presentation on 25 years of environmental peacebuilding by EcoPeace Middle East.
Zahed Yousuf made a presentation on the Dialectiq methodology and main concepts. Participants included representatives of the civil society, in particular non-governmental organisations focused on environment, sustainable development and community work from Cameroun, Chad and Nigeria. The meeting had an exploratory character and investigated entry points and opportunities for civil society to adapt EcoPeace's environmental peacebuilding best practices to the context of the Lake Chad basin.
The discussions were developed within the framework of Dialectiq, a platform utilised to unravel the complex social and economic dynamics within environmental conflict. In doing so, participants were able to better identify priorities, strategise change, and continuously expand knowledge of the basin.
Dialectiq mapped out stakeholders and potential entryways for coalition building and the formulation of inclusive agreements. Creation of the Lake Chad Water Security Civil Society Action Network was the key recommendation that came out from the meeting, it was gathered.
The kickoff meeting was intended as part of an overall pilot project which aims to promote sustainable water management in the Lake Chad Basin while mitigating and preventing social tensions; ultimately creating a multi-stakeholder platform for advocacy for and by civil society.