Lake Chad is located in the semi-arid region that stretches across the Southern edge of the Sahara Desert. The people are impoverished, and predominantly rural. They rely heavily on natural resources for their livelihood. The region is prone to extreme weather events such as drought and flooding, making it one living consequence of climate change.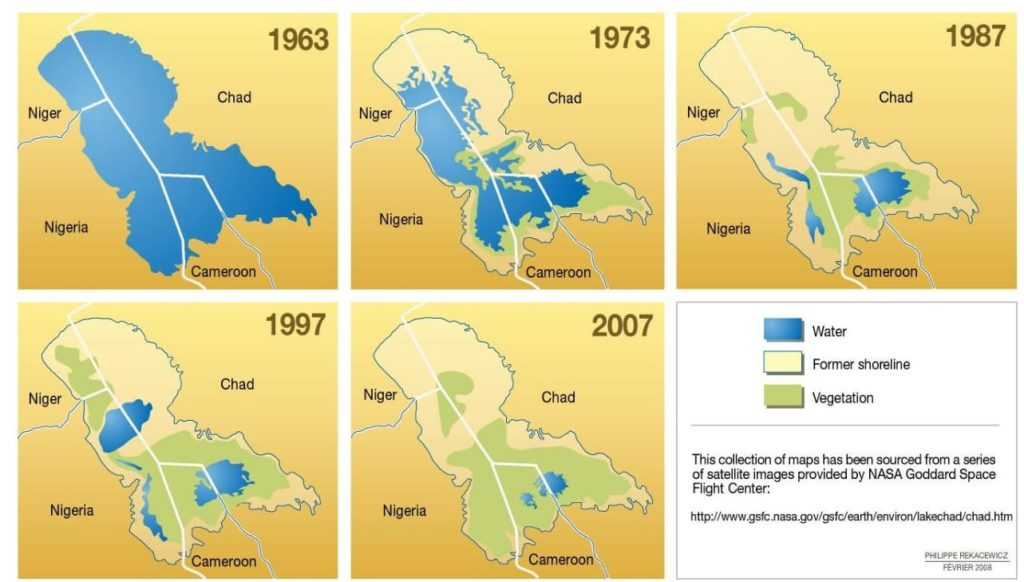 Millions of people in the region have to live with a food insecurity so big they have become a humanitarian disaster. Persistent drought, deforestation and shrinking of the lake have birthed armed conflicts with rebel and extremist groups in their numbers. These have necessitated an emigration of millions to neighbouring Cameroon, Chad, Niger and Nigeria. The Lake Chad Basin also includes the Central African Republic and Libya.
The lake that is one of the largest in the world has shrunk by 90 per cent in the last 40 years. Lake Chad is obviously no longer what it was. Its waters have retreated, uncovering the fertile land. Fishermen are forced to start farming to cater for themselves and family. The region is one that is not accustomed to birth control, and as a result one man has many children.
Lake Chad has grown as often as it has shrunk. There is less water and overpopulation makes it easy for so many fishermen to emerge. A shrinking lake that makes fishing difficult and emerging grasses that obstructs navigation on water. The people of Lake Chad use the water for everything: from drinking to bathing, fishing and also washing.
They simply cannot imagine life without their lake. A people who were mostly fishermen are now forced to change their trade. This has made a lot of them to migrate to neighbouring Nigeria and Cameroon, thereby ridding the region of human resource.
It is no longer news that climate change is one of the biggest reasons why the lake keeps drying up. Individuals, corporate organisations and NGOs have shown utmost concern for the lake that is the biggest gift of the Sahel. There have been myriads of research and so many policies have been put in place by regional governments towards preserving the lake, but nothing substantial have happened with the Lake.
There was a proposition to construct a dam and canals to pump water from Congo River to Chari River, Central African Republic and then on to Lake Chad. It was put forward in 1982 by the Italian engineering company Bonifica Spa, and deliberated at the International Conference on Lake Chad in Abuja in 2018. Major setbacks include funding; resistance from environmental campaigners and peaceful conditions in which it will be conducted.
Unfortunately, this scheme remains a dream. The commission's member states lack the commitment required to take action, probably due to internal regional conflict amongst member states or incompetence. Either way they have failed to do something to keep this treasure from disappearing. Lake Chad comes up often in national and international discourse that one wonders why the noise doesn't become action.
The people that live around the lake are forced to live with a certain kind of hopelessness because their only source of livelihood is disappearing. It makes the region a perfect breeding ground for terrorist groups which is one reason why terrorism in the region seems to be "one booming business". The World is already burdened with hunger, conflict and a massive refugee crisis. Lake Chad must therefore be preserved in a bit to heal the World one region at a time.
In 2018 it was estimated that with food security on an all-time low, more than seven million people were faced with the threat of famine and half a million children suffered from acute malnutrition. A report by the UN office for the Coordination of Humanitarian Affairs postulated that in 2020 a whopping 35 million people will depend on the Lakes resources.
Reforestation is one of many solutions to restoring the lake and as a result of commitments made at COP21 and COP22 the French government has partnered with the UNDP to restore the vegetation of the lake and adapt agricultural practices to climate change. The World Bank and UNESCO are also dedicated to reviving the lake. Regional governments must cooperate to see that the diversion of water from the Congo River comes to life and agro ecology inculcated amongst the dwellers of Lake Chad.
By Halima Imam, Founder (Climate Action Team); axk4lima@gmail.com