Environmental Rights Action/Friends of the Earth Nigeria (ERA/FoEN) has commended Governor Akinwunmi Ambode for playing a pivotal role in spurring controversial former Group Managing Director of the Lagos State Water Corporation (LSWC), Shayo Holloway, to resign his post. The group urged the governor to go beyond merely accepting the resignation of Holloway by probing the management of the agency since 1999.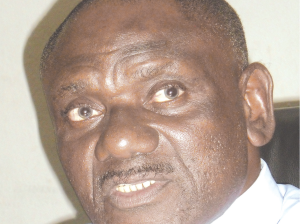 According to ERA/FoEN, Holloway quit the LSWC on Friday 16 October 2015 following a strongly-worded query issued by the office of the Head of Service demanding he explain the parlous state of water infrastructure in all parts of Lagos even after receiving huge sums in the last 16 years.
Holloway became head of LSWC in 1999. The agency, apart from budgetary allocations, has attracted loans from the World Bank and international donor agencies to fund water supply expansion schemes such as the Iju, Adiyan, and Ishasi Waterworks, as well as expansion of distribution networks. These loans, running into billions of naira, have reportedly not translated into improved water supply for residents. Over 18 million Lagos residents – about 90 percent – still lack daily access to clean and safe water, exposing citizens to water-borne diseases like cholera.
ERA/FoEN and partners – Corporate Accountability International, Public Services International (PSI), the Amalgamated Union of Public Corporations, Civil Service Technical and Recreational Services Employees (AUPCTRE) and a coalition of civil society advocates including Dr. Joe Odumakin, Priscilla Achakpa, and Auwal Rafsanjani, had written to Ambode on 9 October 2015 demanding that he publicly reject the public-private partnership-model (PPP) water privatisation scheme that Holloway was promoting, on the grounds of proven failures across the globe.
Former governor, Asiwaju Bola Ahmed Tinubu and the Oba of Lagos, His Royal Highness Rilwanu Akiolu, also received similar letters from the groups, asking that they side with the ordinary citizens of Lagos in rejecting the PPP.
In a statement issued in Lagos, ERA/FoEN described Holloway's ouster as "a welcome development" which should send a clear message to the World Bank and promoters of PPP-model water privatisation schemes that Lagos citizens will defend their rights to a free gift of nature which water represents.
ERA/FoEN Deputy Director, Akinbode Oluwafemi, said: "We commend Governor Ambode for taking this first step to deliver universal access to water for Lagosians, and the obvious next step is to reject the PPP water privatisation scheme Holloway has been promoting once and for all. Holloway's resignation will only make sense to Lagos residents if