The Lagos State Government on Tuesday, November 26, 2019 solicited stakeholders' cooperation in the environmental sector for the implementation of action plan toward reducing emissions in the environment.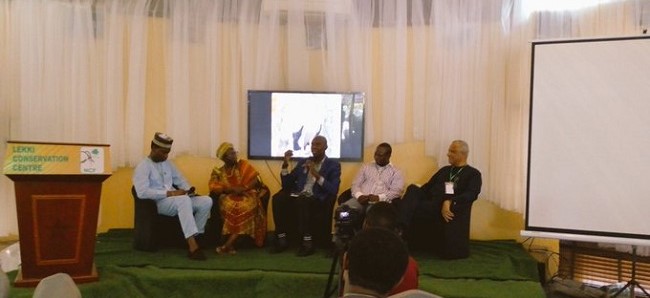 Mr Michael Bankole, Assistant Director, Head/Climate Change and Environment Planning, in the state Ministry of Environment and Water Resources, made the plea during the Climate Action Leaders' Summit organised by the Nigerian Conversation Foundation (NCF).
The theme of the event is "Promoting Nature-Based Investment for Climate Resilience in Lagos".
According to Bankole, the idea of reducing emissions emanated from a communique after an environmental summit held during Gov. Babatunde Fashola's regime.
He said the action was abandoned during the last administration, adding that Gov. Babajide Sanwo-Olu's passion for the welfare of the citizenry informed revival of the action.
"The Lagos State Government is working towards reducing our emissions from what it is presently.
"Government has started water transportation to reduce emission from fuel transportation.
"Government is also making plans to use renewable energy in the environment, following its mandate of taking Lagosians to next level," Bankole stated.
According to him, the next level, to the state government, means a Lagos that is devoid of health challenges, improper waste management and on that is addressing the impact of climate change.
"Government is also working toward befitting landfill management facilities, but people can only help the state by keeping best waste management practices.
"The state also embarked on an inventory on emission, using 2015 as our baseline called Green House Gas (GHG) Emission inventory.
"It was discovered that Lagos State produce emission of 55 per cent on energy, 25 per cent on waste and 20 per cent on transportation,'' Bankole said.
He, however, urged residents to embrace proper waste habit to enable everyone live in a healthy environment.
Also speaking, Mr Desmond Majekodumi, the Chairman of the occasion and a council member of the NCF, pleaded with Nigerians to help the incoming generation to overcome climate change.
He said this could be done through continuous sensitisation of the people on the effects of climate change.
"Campaign against climate change should be everybody's business. Whether we like it or not, nature will find its way if proper things are not being done to control it,'' Majekodumi said.
He said that he had been into farming in Nigeria for more than 35 years and urged Nigerians to take to farming to produce food.
He said when more people indulge in agriculture, it would assist the Federal Government to eradicate unemployment and improve habitable environment for the citizens.
Majekodumi, who said that he had stayed in Kenya for a very long period, noted that 60 per cent of Kenyan economy is based on agriculture and 35 per cent on eco-tourism.
He advised the NCF to enlighten the people on how to tackle climate change to secure a better, habitable future for incoming generations.
Managing Director, Total, Mr Mike Sangster, said that the impact of climate change had manifested in flooding, desertification, drought and deforestation.
Sangster, who was represented by Mr Fred, the Manager, External Communications of Total, said that climate challenges required the commitment of government and the citizens to effectively combat them.
He said that if the challenges were not tackled, they would reduce the quality of life in Nigeria and expose people to great danger.
Sangster said that Total had zero gas flaring in all its new projects, adding that the company engaged in planting of trees during the celebration of World Environmental Day and other activities to tackle climate change challenges.
Mr Ayodele Alani, Head of Business Development and Communications of NCF, said that his organisation would unveil solutions to tackle climate change.
By Aisha Cole