A call has gone to all Lagosians to intensify efforts in tree planting as this does not only beautify the environment but improves the health and wellbeing of both plants and animals, while also mitigating the negative impact of climate change.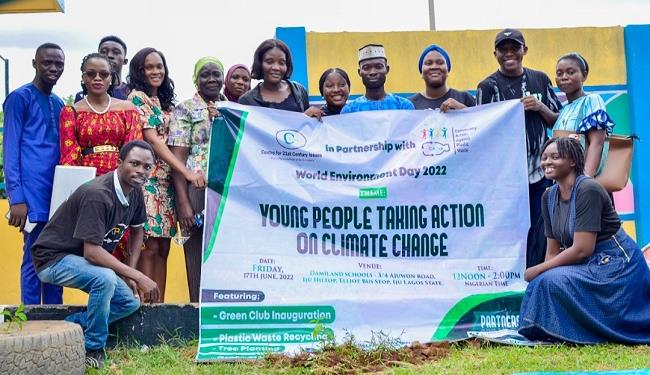 General Manager, Lagos State Parks and Gardens Agency (LASPARK), Mrs. Adetoun Ibilola Popoola, made this call during the inauguration of Green Club by the Centre for 21st Century Issues, a civil society group, in Lagos on Friday, June 17, 2022.
Mrs. Halimat Adeniji, who represented the LASPARK boss, revealed that the Lagos State Government is partnering with Centre for 21st Century Issues so as to sensitive the public on the need to inculcate tree planting habit and ensure they nurture those trees to maturity.
"We have to start planting trees, if we remove all the trees in the process of urbanisation, then there will be no plants or trees to replace our oxygen and when that happens, nobody will be alive on planet earth. So, try not to remove trees unless they are posing threats to lives and property," she concluded.
On the forthcoming Lagos State Tree Planting Day billed for July14, 2022 "we are working towards it and we hope to plant 50,000 trees by the end of this year," she added.
In her keynote address, Executive Director, Centre for 21st Century issues, Ms. Titi Akosa, revealed that, in line with the group's commitment to empower the youth and young adults, the Green Club was inaugurated in partnership with Community Action Against Plastic Wastes (CAPws).
Children of Damiland High School were sensitised on best ways to manage plastic wastes, how to make money from wastes and how to recycle plastic wastes.
Highlights of the event was displaying the procedure of planting of Hibiscus Rosa-Synensis to the students by members of LASPARK team present.
On the theme of this year's World Environment Day, "Only One Earth", Mrs Adeniji opined: "This planet earth we have to take care of it so that when we go away, and we do not teach the children how to take care of it then there will be problem."