A considerable number of Lagosians are facing a range of challenges in the bid to access proper health care services.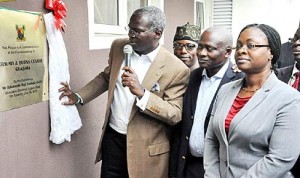 A visit to two primary health centres in Alimosho Local Government Area (LGA) in Lagos State reveals that ridiculous demands, lack of medical workers and epileptic power supply are among obstacles militating against effective health delivery in the neighbourhood.
Alimosho is the largest LGA in the state with 30 primary health centres catering for its over two million residents. It accounts for majority of votes during the 2011 general election that resulted in the re-election of Governor Babatunde Fashola. But, alas, the council area can barely boast of standard health care services.
For instance, the Orisunbare Health Care Centre, situated along Ejigbo Road, was established in 2008 and is meant to cater for an estimated 40,000 residents. However, it has only one medical doctor, who is a youth service corp member. The health centre recently started a 24-hour service delivery after a Ward Health Committee was set up. The Ward Health Committee members, who were selected from the community development association in Oguntade/Bameke Ward in Alimosho, were trained by the Lagos State Civil Society Partnership (LASCOP).
According to Miss Chichi Nkire, a member of LASCOP, the Ward Health Committee members, after undergoing training in Simple Management Skills, were tasked with the function of liaising between the health centre and residents in their communities.
"They work towards the smooth running operations of the health centre by mobilising community members to make use of the health centre and also work with community leaders to simplify concept that may seem worrisome to residents. For example, they are still some families that will not bring their children for immunisation and other essential treatments. We hold meetings with the Baales (traditional leaders) to educate them on the need for children to be immunised against killer diseases and all these treatments are free," she disclosed.
Head of the Ward Health Committee in Orisunbare Health Centre, Alhaja Hafsat Adebisi, said before they were trained the health centre was not rendering antenatal and immunisation services due to the state of the facilities. But, after the training, they learnt how to mobilise resources and, through communal efforts, were able to raise money in wiring and installing ceiling fans.
"Mothers used to feel uncomfortable in bringing their babies because the health centre was always hot and people will be sweating, but we took care of that. We have also partnered with a fuel station in the community to supply fuel that we use in powering the generator donated to the health centre. All these we were able to achieve through communal assistance. Our health centre now operates a 24-hour service but we believe we can do more. We want residents to know that there is a functional health centre in the community and it is for their benefit but if it is not in a good condition nobody will want to come," she stressed.
The Alabata Primary Health Care Centre situated along Akowonjo Road in Alimosho also operates a 24-hour service. According to the Chief Matron, Mrs Grace Okpadotun, the health facility receives an average of 250 patients daily with some other health care services being accessed in Isheri due to lack of space.
"We have limited space for our operations, but the number of patients that come here daily is overwhelming. But we are managing to attend to them the best way we can," she disclosed.
Medical Officer for Health in Alimosho, Dr. Kayode Odufunwa, explained that paucity of funds, epileptic power supply and lack of space are among the key challenges facing effective delivery of healthcare services in the council.
"We have some fridges given to us by donor agencies and they are being powered by solar energy. These are used in storing vaccines and other essential drugs that need to be preserved in a cool place. We believe we can do more in ensuring that residents of Alimosho get the best of health care services.
In a chat with some women attending antenatal care, it was discovered that among requirements listed for child delivery is half a gallon of kerosene. When asked the need for it, the women said the hospital uses it in boiling hot water to bathe babies or to prepare tea.
Mr. John Okowehor, whose wife is a patient in the hospital, confirmed the woman's claims, saying that he was once mandated to bring 10 litres of kerosene when his wife put to bed some years ago.
"It is an old practice and I don't think they will ever stop it," he lamented.
Reacting to the kerosene requirement for child delivery services, Okpadotun said that hot water is required for bathing the women after child birth "and we use the kerosene to boil water for them."
"Is it my money that I will use to buy kerosene for them?" she demanded.
Recently, at a Roundtable with journalists, the Lagos State Commissioner for Health, Dr Jide Idris, said he was not aware that women were asked to donate litres of kerosene as requirements for child delivery services. However, even as we speak, the petroleum product is top on the list of requirements for expecting mothers at the Alabata Primary Health Care Centre in Alimosho.
Residents in the most populated local government area in Lagos are however optimistic that, one day, primary health centres within their community would be functional, properly staffed and well equipped.
By Tina Armstrong-Ogbonna