What a calamity! That was the lamentation of a Lagos flood victim whose living room turned into a makeshift swimming pool penultimate weekend. Lagosians generally, and most especially the residents of Victoria Island, Ikoyi, Lekki, Badore, and Ajah were at the mercy of a devastating flood, which wrecked havoc on their properties and made all arterial roads in the affected areas an extension of the Lagos lagoon and virtually impassable due to a four-day non-stop heavy downpour the week that just ended. There was flood, flood everywhere, causing untold agony and discomfort, albeit no casualty was reported so far.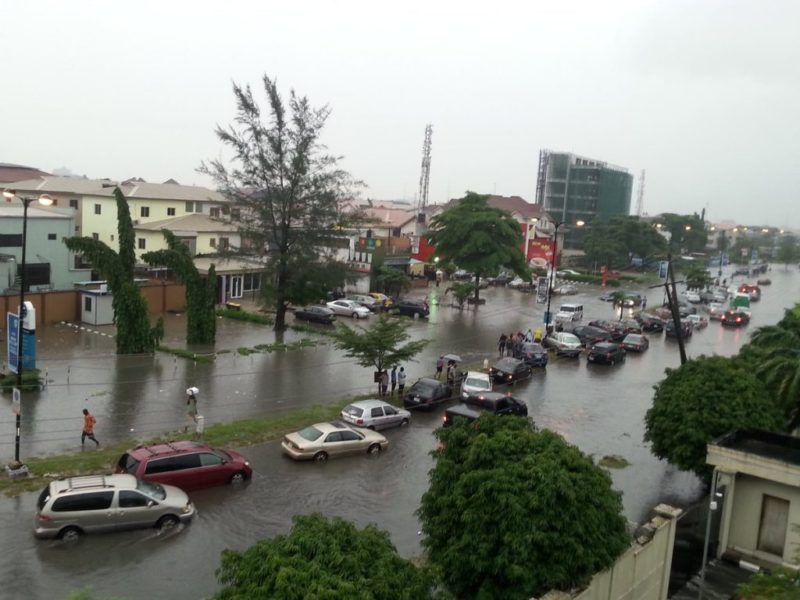 When you add this nature-induced (?) problem to the twin problems of the "Igbonla boys"  the six students of an Epe Model school who are spending their 40 days in captivity of kidnappers and the ravaging/deadly cult group a.k.a Badoo terrorising Ikorodu environs, Governor Ambode would deserve the sympathy of the residents of the state of excellence suddenly turned the state of DT (Daily Tragedy). And like they say: Uneasy lies the head that wears the (thorny) crown.
Flood is not new to Lagos especially during the rainy season, but it is the voluminous water coupled with the magnitude of destruction of property brought in its wake by the current flood that was the cause of anxiety among Lagos residents and also giving the Lagos State Government sleepless night. And we ask the probing question: Are there no professionals in the employ of the Lagos State Government?
Geographically, one cannot be mistaken if Lagos is called an "archipelago" considering its collections of many scattered islands. Despite its partially planned mainland and its unplanned sprawling hinterland, an online newspaper was right when it noted that "the key to understanding Lagos, Africa's most populous city, is in the water" (Quartz Africa). This being so, the major part of Lagos State is below sea level, which makes it always vulnerable to flooding. And added with the phenomenon of climate change, the agent of rising sea level, the fear of constant flood in the mega city is founded, not hyperbolic. This in effect calls for a better/uncorrupted urban planning system and flood control contingency plan aimed at achieving to primary objectives viz: better urban form and deflooding mechanism.
It is the way that future Lagos mega city is planned that would make it less vulnerable to flooding. The present approach of urban planning in Lagos State is very defective in all ramifications. Everything activity of planning is left uncoordinated. A piece-meal-like plan making is a norm even though little is achieved in that direction, while very feeble and highly compromised urban development system encouraged by a government always in violation of its own development regulations usually clogged the wheel of better environmental management of the mega city. And with a "near-nil attitude" towards enforcement of city planning regulations in addition to recalcitrant citizenry who take town planning rules for granted believing that pecuniary inducement can let them have their ways, this writer by virtue of my training as an urban planner and a stakeholder in Lagos mega city affairs based on my residency of over three decades, make bold to state that Governor Ambode needs a work team of " honest interdisciplinary advisers and city monitors " comprising the best scientists, geologists, oceanographers, marine biologists, remote sensing experts, metrologists, GIS guru, geographers, urban planners, computer scientists and other relevant professionals outside the bureaucracy of government whose judgement about urban development and environmental management of the entire city-state is not based on sentiment, falsehood, and obsequious flattery.
I want to table my take on the issue of the flood as follows:
Let the Lagos State government have the political will to punish environmental offenders. The government cannot be blowing hot and cold simultaneously. It must be decisive and tough on environmental regulations. Those who build where they are not supposed to build ought to be quickly reprimanded. A deterrent example must be set as in the case of the Lekki Gardens tragedy in 2016 where a poorly constructed building collapsed and claimed the lives of 36 innocent people because some officials failed to do their work diligently. The LASG must be proactive. Not all land in Lagos must be developed. All wetlands must be signposted as no-go areas for housing development. There must be a containment of land-use. Let the state adopt a semblance of zoning practice to save Lagos from sand diggers and rapacious estate developers who would stop at nothing to damage the environment by their anti-environment activities and greediness to make money at the expense of people's lives.
The nonsense that goes on daily in Alapere area of Lagos where uncaring citizens are indiscriminately building houses inside the water catchment area MUST be stopped by fiat. It is an aberration and an illegal destruction of the ecosystem. Other similar floodways and floodplains abound in Lagos State where the government must protect from illegal urban development because the wetlands are required to carry off excess water in the case of flooding. It is the elementary knowledge that development in the floodway raises flood levels and increases damages. These special areas are not to be clogged with housing, which can lead to the drastic reduction of the size and carrying capacity of the water body.
Governor Ambode is advised to have monitors for all fragile environments, who would readily ward-off any prospective house developer from intrusion. Any Town Planner who gives approval for any physical development in an area designated as wetland must face the music and charged for unprofessional conduct. No doubt, the unethical conduct of a few unscrupulous District Town Planning Officers in charge of Lekki, Ikoyi, Osborne, Parkview, Victoria Island, Ajah, Dolphin, Badore and beyond, cannot be ruled out as contributors to the present predicament of flooding in Lagos, if the stock is taken to determine causative factors. This writer has his own story to tell. The open indictment or accusation has its genesis. I was formerly a victim of reckless conduct by Lagos State Town Planners where I reside in Parkview Estate and where the incumbent governor is also a prominent resident. When any violation is brought to their attention at the nick of time, they chose to look the other way and fake ignorance of what should be done. Ask why? It is because of "C" word. These violations in different forms are prevalent in Parkview till-date namely: violation of setback, height and bulk standards and unapproved change of use from residential to school, hotels, and offices including an unauthorised mama put bukataria that serve as magnet to all manners of outsiders who come to patronise the place at the risk of the security of the estate's bona fide residents.
"Let's Build Right, The lives of Lagosians matter" is now the sing-song of the current campaign by the Ministry of Physical Planning and Urban Development. Though a well-crafted and well-intended message, but of what use is such message when in actual fact the officials are aiding and abetting contraventions by the very planning approval they give to developers and allow people to build on road setback, inconsistent issuance of a certificate of fitness for occupation and a gamut of planning regulations they often ignore to enforce? Planning is not about rhetoric. It is about a "can-do spirit" of fair play and honesty to protect the living environment from going to ruins by deleterious human activities which should be deterred by due diligence and strict adherence to proper ethical professional practice.
Paying attention to picayune details about environmental management is very paramount. Little things matter. The existing man-made canals are quite necessary for deflooding Lagos, but they should be re-examined whether their holding capacity is ideal for present day uses. Some would need to be extended in size both length and breadth. Additional ones may need to be constructed without further procrastination to serve areas of need. This is the case in Osborne Phase II Estate where indecision of the Federal Government and LASG is causing the delay (for over a year) of the construction of a canal big enough to deflood the residential estate whenever it is flooded. Prompt action can save lives, property and be cost-effective, while delay costs money.
Reported cases of houses built directly on canal pathway should not be spared. Such structures must be swiftly demolished if proven to be in violation of any planning regulation. The clearing of the canals of debris and sand sedimentation should take place on a regular basis and spike the routine during the rainy season when flooding often occurs.
Lagosians must help Governor Ambode in his quest to minimise the intensity of flooding in the state. First, the government must constantly engage the citizenry through enlightenment about the inherent danger of indiscriminate dumping of refuse into canals or any available water body. The Lagos State Environmental Protection Agency and its counterpart, Lagos State Disaster Management Authority should be in the forefront of citizen education about some ideas of what the residents can do when flood waters threaten their communities. The preparation of easy to read brochures with explicit tips would be of immense acquisition of knowledge about how to minimise the loss of life and property in the wake of a flood disaster. Second, encourage whistleblowers by establishing a telephone hotline to make a cinch of the process. Lagosians must play the role of "environmental guards" wherever they reside and collaborate with government to keep the milieu safe for living, working, and pleasure.
Governor Ambode must expand his horizon on the pragmatic solutions to Lagos flood. A holistic scientific study of the many causes of flooding in Lagos and its environs is highly recommended and any previous Committee reports on the subject must be taken off the shelf, peruse and borrow a leaf from the report's useful recommendations for immediate implementation. Data collection for planning, rainfall, and the cycle of flood occurrence must be resuscitated. Governor Ambode should not engage in re-inventing the wheel where it is not necessary. The web-like drainage problem, especially in Lekki peninsula, calls for the intervention of notable and tested engineering/sewage companies that can provide a workable solution. If international assistance is required, the government should reach out and seek help. There are best practices about flood control in some coastal cities similar to Lagos around the world which the LASG officials can understudy. Copenhagen, Denmark, Venice, Italy, Helsinki, Finland, Perth, Australia and New Orleans in Louisiana State, USA are examples of coastal cities where engineering innovation has helped to conquer the ravaging effects of coastal erosion and ocean tide flooding. The Lekki situation where a whole estate was developed without primary concern for a network of drainage ab inito was a costly mistake that would require brain-tasking solution considering the existing high density and maze of development that has taken place in Lekki peninsula to-date. It is a mega task beyond the capacity of local professionals.
Change of tactics must be experimented by the LASG. Instead of sticking to the structural method of flood control, which gives a false impression of security, the time is ripe to use nonstructural methods of flood protection, especially cost-effective floodplain management techniques in vogue around the world. Such methods are made possible through land use zoning regulation which must be religiously enforced. The simplistic idea of floodplain management is to reduce the effects of flooding by keeping people away from flood water, instead of the herculean task of trying to keep flood water away from the people! Again, I want to stress that this would entail attitudinal change among the citizenry who must comply with the law and upright government officials who must enforce the law. Development in the flood fringe must be guided by floodplain construction standards as stipulated by subsisting regulations. The government should consider the preparation of flood hazard boundary map for the state and also develop Floodplain Management Programme intended to reduce to the barest minimum, the adverse effects of flooding.
Last and sharp word
Flood is inevitable in Lagos because of the coastal location of the mega city. Floods are natural occurrences. It is not a matter of "will it flood?" but "when will it occur?" Similarly, we can minimise the effects of the flood if the residents don't build in areas prone to flooding.
By Yacoob Abiodun (Urban Planner / Planning Advocate, Parkview Estate, Ikoyi, Lagos)