The need for collaborative efforts from all stakeholders in the agricultural sector to sustainably scale up produce towards achieving food security has been emphasised.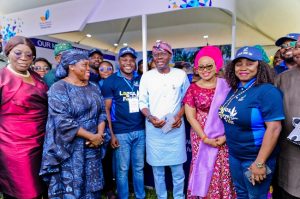 This emphasis was made by the Governor of Lagos State, Mr. Babajide Sanwoolu at the 2023 Lagos Farm Fair as part of the activities commemorating United Nations World Food Day, at the Police College, Ikeja.
Sanwoolu, who disclosed that a Central Food Logistics Hub would be completed in Lagos next year to reduce waste and loss, also noted: "Farming is an important component of our government's activities. We need to grow what we eat and eat what we grow. While we have collaborated with some major agricultural states within the country, we are also looking for independent paddy rice farmers across the federation to raise paddy supply at Lagos Rice Mill.
"We need a lot of paddies to meet production capacity. It doesn't matter how much paddy rice they have; we are ready to take it up. This is calling on paddy growers across the country to key into this opportunity."
The 5th edition of the Lagos Farm Fair, hosted in partnership with the British American Tobacco Nigeria Foundation (BATNF) with the theme "Water is Life, Water is Food; Leave No One Behind", is geared towards taking actionable steps both by the government and the organised private sector in ensuring food security within the state.
In her remarks, Odiri Erewa-Meggison, Board Director, BATN Foundation, asserted that the initiative aligned with the core objectives of the Foundation.
Erewa-Meggison, who was represented by Ruth Owojaiye, listed part of the achievements of BATN Foundation as "the installation of 100 solar-powered borehole facilities (20,000-liter capacity) with over 300,000 beneficiaries and irrigation kits to smallholder farmers on over 500 acres of land to support dry season farming and boost their income, all achieved in five years.
"BATN Foundation, since its inception in 2002, has supported the Federal and State Governments in agricultural development programmes and has invested over N2 billion in supporting rural small-holder farmers in the production of food crops, like cassava, rice, and maize, and in aquaculture and livestock.
"So far, we have reached over 1.3 million beneficiaries, and we expect to double that in the next 10 years through increased support to smallholder farmers across the 36 states of the federation and the FCT," she concluded.
Ms. Abisola Olusanya, Lagos Commissioner for Agriculture, in her submission noted the event was held in the wake of critical food security issues facing the country and required urgent actions to scale up food production across the various value chains.
"Not only is Lagos playing a frontline role in the aqua farming industry, we are also key players in the production of other crops and edible produce. This year's commemoration of World Food Day is to come out and encourage our farmers and create a platform for them to be aware of all the incentives and interventions we have created for them," the Commissioner said.
The BATNF partnership with the Lagos State Government is in tandem with achieving UN Sustainable Development Goals 1, 2, 6, 8, 10 and 13, which ultimately aim to improve human living conditions through a healthy diet and promote action against hunger in the state and this year's fair has been able to support over 600 smallholder farmers.
BATN Foundation has partnered consistently over the years with the Lagos State Ministry of Agriculture and Stanbic IBTC Bank to sponsor the World Food Day – Lagos Farm Fair celebration, a platform designed to create market linkage to farmers.
The 2023 Lagos Farm Fair is an initiative under "Wealth is Here," which is aimed at ensuring food adequacy and sufficiency.
By Ajibola Adedoye