The Lagos State Government and other relevant stakeholders have underlined the need to better sensitise citizens at the grassroot level to partake in voluntary blood donations exercise to ensure that the state has enough blood in the bank to save lives.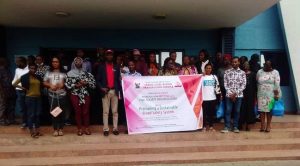 Speaking at a stakeholder meeting titled "Promoting A Sustainable Blood Safety System To Safe Blood", Dr. Bodunrin Oshikomaiya, Executive Secretary of the Lagos State Blood Transfusion Service, underlined the importance of interacting with civil society organisations (CSOs) in order to promote donor and resident acceptance.
According to Dr. Oshikomaiya, the event allowed the state administration to interact with stakeholders in order to raise "a lot of knowledge about what the government is doing in such a way that the people will comprehend it."
Oshikomaiya added: "We want them to realise that we have the capacity to assist them in raising blood donation advocacy awareness."
He urged inhabitants of the state to donate blood willingly in order to save the lives of other individuals in need.
Dr Alori Samuel, the Head of Monitoring and Enforcement for the Lagos State Blood Transfusion Service, also spoke at the occasion and encouraged Lagos citizens to participate in voluntary blood donation.
Emphasising the importance of blood to the existence of man, Samuel explained that a single donation of blood could save lives.
Titilope Akosa, the Executive Director of the Lagos-based non-governmental organisation Centre for 21st Century Issues, established that blood donation is very important. She explained that the role of the CSOs is to raise awareness and help the public understand what the government is doing.
"Blood donation is very important because people who have accidents need blood. The state government set up the blood bank so that, at any point in time when residents need blood, they go there. For us as a civil society, it is so important for us to understand these processes – how is blood collected? How is it screened and how are the services?" she asked.
"As a civil society, we interact with the state residents on the importance of blood transfusion and the need to ensure that the transfusion system works. We encourage our people to donate blood because if people don't come out to donate blood, there won't be blood for anyone who needs it. It is our role to ensure that residents come out to donate blood," she added.
By Ayomide Emeka Joseph