The Lagos State Government on Wednesday, January 24, 2018 arrested a total of 24 persons including cart pushers, street traders and some residents for dumping waste on road medians and canals contrary to the Environmental Sanitation Laws of the State.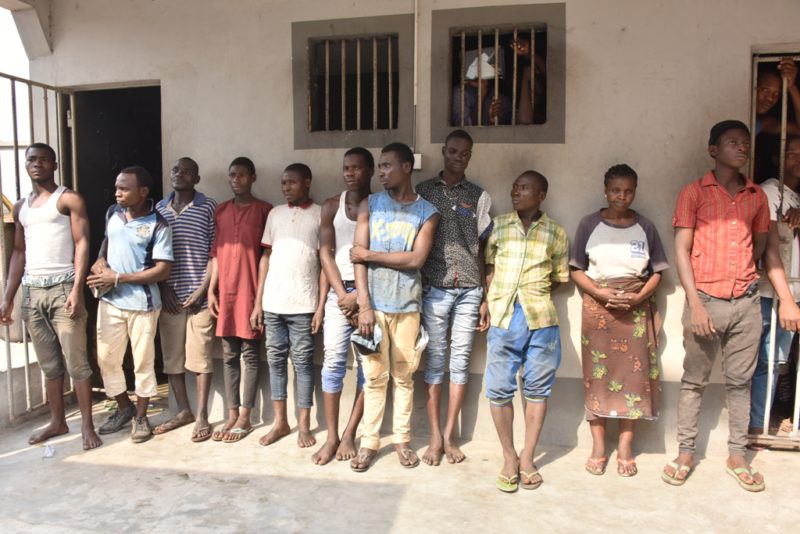 The suspects, who have been charged before the Special Offences Court sitting in Ogba, Ikeja, were arrested in an early morning operation carried out by men of the Lagos State Environmental Sanitation Corps (LAGESC) recently inaugurated by Governor Akinwunmi Ambode.
Giving details on the operation, LAGESC Corps Marshal, Daniel Isiofia, said the suspects were arrested following investigation which revealed that cart pushers and some residents were indiscriminately dumping domestic refuse at sites not designated for waste disposal and canals, thereby sabotaging the ongoing efforts to make the State clean and hygienic.
He said: "Recently, there has been clamour for cleaner Lagos and the Governor has been very keen on making Lagos clean. To this end, he gave us a mandate to ensure that Lagos is kept clean by ensuring that acts that lead to the city to be dirty are curbed.
"We know that there have been massive efforts to clear the backlog of refuse on the road and our men went on surveillance and we eventually discovered where the cart pushers are operating at Ogunlana Street by Ogbomosho in Itire area. We raided the area and saw the cart pushers whose job is to collect refuse on payment from some residents who feel that they cannot dispose their refuse according to government directive and dump on road medians and canals.
"Often times, if you go to the canal at Itire-Ijesha area, you will see the cart pushers dumping refuse into the canal thereby blocking the waterways which leads to flooding. So, with the determination to stop this menace, we raided them at about 4am this morning and we succeeded in impounding 150 waste carts used for this purpose and arrested 11 suspects while others fled."
Isiofia, who is a retired Assistant Commissioner of Police, advised residents to desist from indiscriminate dumping of refuse in public places, as well as patronising cart pushers, saying such were against the law, just as he vowed that ongoing efforts to stop the menace would be sustained.
"We are going to sustain this process. I like to advise the operators of the waste carts to know that Lagos is not a place for them. They should leave Lagos or look for another job and to those who patronise them, if we get them, we will charge them to court because they are running foul of the law.
"We are appealing to the citizens to know that a clean Lagos is a healthy Lagos. It is for the benefits of all of us for our environment to be clean. Some people see us as enemies but we are not; we are only doing this job for the benefit of all.
"We are partners in progress; Lagosians should assist us. Governor Ambode too has pleaded with the people to support the bid to make Lagos clean and we are joining the Governor to appeal to people to desist from indiscriminate dumping of waste and make Lagos a very clean city," Isiofia said.
Meanwhile, four hoodlums have been arrested for attacking LAGESC officials while performing their lawful duties.
The hoodlums carried out the attack on men of the agency on Tuesday at Brown Street area of Oshodi while on their way to enforce the ban on illegal dumping of refuse and street trading.
Two LAGESC officers, Olasilola Muyiwa John and Haastrup Ifealuwa, were seriously injured while a Black Maria used as operational vehicle was badly damaged. All the suspects have since been charged to court.