The Nigeria Erosion and Watershed Management Project (NEWMAP) in Kogi has sealed a multi-million-naira contract with Loraj Consortium for engineering design of five gully erosion sites and supervision of eight sites across the state.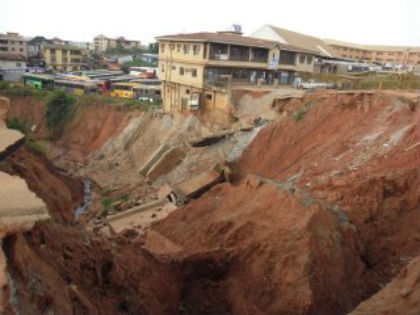 Mrs Ladi Ahmed, the Project Coordinator, Kogi NEWMAP, at the signing of the contract with the Consultant in Lokoja, said the event was an indication of Gov. Yahaya Bello's commitment to tackling ecological challenges in the State.
She named the five gully erosion sites for engineering design as: Township Erosion site in Ankpa, Ogane-Aji in Dekina, Ugwolawo in Ofu, Etahi in Okene, and Omigbo River Channelisation in Kabba/Bunu LGAs.
Also, the eight sites for supervision are: Adum Road in Olamaboro, Agassa in Okene, Ozuri in Adavi, Ankpa, Ogane Aji, Ugwolawo, Etahi and Omigbo River Channelisation sites.
She said that the projects were being funded by the Kogi State Government in collaboration with the World Bank through counterpart fund which had already been paid by the governor.
The cost for the designs is N217,765,595, while that of supervisions is N160,280,579, making a total sum of N378,470,174 for both contracts.
"After a rigorous, competitive and transparent evaluation, Loraj Consortium emerged as the firm with the most responsive bid out of a total of 40 Expression of Interests (Eols) received.
"After all processes of evaluation were concluded, reports were sent to the World Bank for its review, following which a 'No Objection' was issued.
"We express our gratitude to our environmentally friendly governor for providing the enabling environment and for paying the state's counterpart fund for us to get to this stage," she said.
Mr Sanusi Yahaya, the Commissioner for Environment and Natural Resources and Chairman, Kogi NEWMAP State Steering Committee, urged the consultant to complete the designs within the agreed period of one year.
"As we speak, quite a number of communities are about to lose their houses while some had already lost theirs.
"We believe the consultant knows our pains and the urgency of this matter; so, we urge the organsation to be on the same page with the state and keep to the timeline," Yahaya said.
On his part, Mr Leo Anuforo, the Managing Director/CEO of Loraj Consortium, assured the government that the company would deliver the Engineering designs within the time frame of one year.
"We will not disappoint Kogi.
"There are two components: design and supervision, already we have had three designs on ground for Agasa in Okene, Adumu in Olamaboro and Ozuri in Adavi.
"So, as soon as the contractor is boarded using the World Bank procurement process, work will commence on those sites in earnest.
"We are starting the raking work on the designs tomorrow, because the people are being threatened by the menace of gully erosions and other environmental related issues," Anuforo said.
By Stephen Adeleye