The world could miss out in the fight against climate change and achieving the Sustainable Development Goals (SDGs) if the current scale of forest destruction continues, according to Kofi Annan, Chair of the Africa Progress Panel (APP).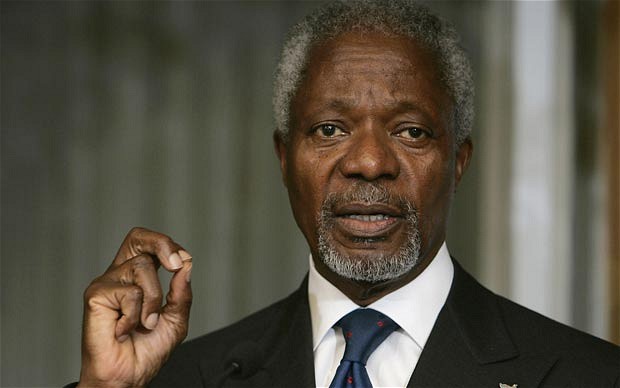 Mr Annan warned against the destruction of forests, which provide clean air and water, and local communities with food, shelter and livelihoods, saying, "Each day more forests are cleared, driven by multiple activities, from agriculture to infrastructure development, to the growing demand for wood and forest products, often made worse by illegal logging."
In his keynote address at the "Forests for the Future – New Forests for Africa" conference in Accra, Ghana on 16 March, Kofi Annan said: "Some of the world's most precious ecosystems, such as the Virunga National Park in the Congo Basin, are threatened by oil, gas and mineral exploration and exploitation".
Forests and climate change
Forests offer incredible impetus to the fight against climate change. "Forest restoration and reforestation in Africa can contribute to the global effort to tackle climate change and accelerate progress in achieving the Sustainable Development Goals," said Mr Annan, adding that "forest restoration of 350 million hectares could generate $170 billion per year in net benefits from watershed protection, improved crop yields and forest products."
To realise these gains, he encouraged African governments to create the conducive environment to promote domestic and international investment in sustainable reforestation initiatives.
In its 2014 report, "Grain, Fish, Money: Financing Africa's Green and Blue Revolutions," the APP argued that effective protection, management and mobilisation of Africa's vast forest resources are needed to support transformative growth. The Panel estimated that Africa lost 12.4 billion Euros (US$ 17 billion) to illegal exports of timber in 2011.
Transforming the forestry sector
Kofi Annan challenged Africa's leadership on reforestation to go hand-in-hand with a massive transformation of its energy sector. "Two out of three Africans – over 600 million people – have no access to electricity. Cut off from the grid, rural populations across the continent often have no other choice than chopping trees to make charcoal for cooking," he stated, adding that "this is not just driving deforestation and climate change, but also putting people's health at risk."
He outlined three key steps to transforming Africa's forestry sector:
put an end to deforestation and protect the health of our remaining forests;
recognise the huge potential of new forests and invest in sustainable reforestation of degraded lands; and,
put Africa on a pathway towards a low-carbon energy future to end the clearing of forests for energy purposes.
The conference, which aims at large scale reforestation in Africa, is an initiative of the Dutch forestry consultation company, Form International; the sustainable forestry plantation company, Form Ghana; Nyenrode Business University; and in cooperation with The Forestry Commission, Ghana and the World Resources Institute.
By Stephen Yeboah (Research Fellow at the Africa Progress Panel)