King Charles III on Wednesday, June 28, 2023, attended the launch of a Climate Clock, representing a stark warning that there are only six years and 24 days left to limit global warming to 1.5 degrees.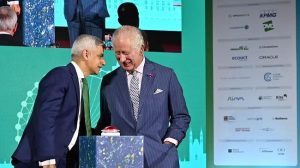 The event took place at Climate Action's Climate Innovation Forum (CIF), where His Majesty also attended a meeting on climate solutions and met British climate-tech founders.
The Climate Clock was switched on by the King in the company of Sadiq Khan, Mayor of London, using a button made of plastic recovered from the ocean. The activation of a five-metre-tall Climate Clock in the City of London's historic Guildhall automatically launched 150 climate clocks across London and major cities nationwide – the largest of which is at Piccadilly Circus. Billboards were donated by Ocean Outdoor and JCDecaux.
The Climate Clock represents the speed of action that must be taken to limit the worst of climate change and global warming. It also visualises the Renewable Energy Lifeline, which monitors the percentage share of global consumption generated by renewable resources.
For more than five decades, as Prince of Wales, The King has championed action for a sustainable future. Before the Climate Clock was activated, a short film was played, featuring speeches over the last 50 years by His Majesty, as Prince of Wales, on the subject.
During a high-level meeting joined by His Majesty, discussions focused on "accelerating the speed and scale of the green transition", looking at how to rapidly finance, replicate, and scale innovation. The King also heard about what is needed between now and COP28 to mobilise private sectors on these issues. Invited participants included Sadiq Khan, Mayor of London; Graham Stuart, Minister for Energy Security and Net Zero; the Vice-Chancellors of the Universities of Oxford and Cambridge; and the CEOs of HSBC, AstraZeneca, OVO Energy, and GRIDSERVE.
Returning for the fifth year as the flagship event of London Climate Action Week, the Climate Innovation Forum convened 1,500 leaders from government, business, finance, and civil society to catalyse the fulfilment of the UK's climate commitments, and drive the radical collaboration, finance and innovation needed to deliver on our global climate goals.
At the event, His Majesty also met some of the UK's leading climate-tech startups, including Arda Biomaterials, Futraheat, Piclo, and Clean Growth Fund. These organisations offer opportunities to help the country achieve its net zero targets – the "economic opportunity of the 21st century", according to an independent review commissioned by the UK government.
CIF was run by Climate Action in partnership with the Department for Energy Security and Net Zero (DESNZ). Acting as a key touchpoint between COP27 and COP28, it aimed to shine a light on the pro-growth opportunities that net zero presents regionally, nationally, and globally. DESNZ hosted a separate roundtable on COP28 alignment together with Foreign, Commonwealth & Development Office (FCDO), and the Department for Environment, Food and Rural Affairs (DEFRA).
Speaking at the event, Nick Henry, CEO and Founder of Climate Action, said: "We are honoured to be joined by King Charles at the Climate Innovation Forum for the national Climate Clock switch on, during London Climate Action Week. This powerful illustration of the scale of the climate emergency also reminds us there is still time to avert disaster. We need to align all actors – governments, cities, investors, businesses, and civil society – to move at speed and at scale. It is vital that we embrace the pro-growth opportunity of the net zero transition and turn ambition into transformational action."