Residents of Kakura community in Chikun Local Government Area (LGA) of Kaduna State in Nigeria are lamenting a lack of potable water within their village despite closeness to the city.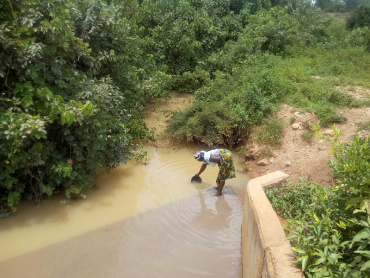 A recent visit by this reporter to the village with about 1,000 inhabitants revealed that the community lacks access to good and clean water to drink. In fact, the people drink from a pond that appears to be covered in dirty particles particularly during the dry season.
Village head, Ishaya Gwamna, disclosed that, during the dry season, virtually all the wells in the village are dry.
"We do suffer a lot during the dry season because all wells within the village get dried up. The only borehole provided to us by an NGO in year 2,000 has stopped working. Now, our women fetch water from a well but as soon as the rains stop they move to the pond to fetch water," he said.
Another community leader, Sunday Kakura, said they are not happy drinking from a pond shared by people and cows.
"We have no option but to drink from same pond because we just have to survive. But we need assistance from any individual to provide us with boreholes in the village. We are subsistence farmers and need government intervention in our village," he said.
Gwamna also expressed sadness with regards to lack of potable water for his people.
"We vote during elections because politicians do come to seek for our votes. But they never fulfill their promises to us.
"We are appealing to philanthropists, other agencies and even the state government to provide us with a primary health care centre where our women and children can access health care. We equally need drinking water in the community which is a big challenge to us," he said.
By Mohammad Ibrahim