The Elephant Protective Initiative (EPI) Friend of the Month for July 2023 is Jaime Dias, a bush pilot flying a lonely and courageous journey for conservation in the skies of central Africa. Jaime is the founder and CEO of Wings for Conservation. He claims that his work and presence in an area in Chad led to the creation of the Zah-Soo National Park in March 2022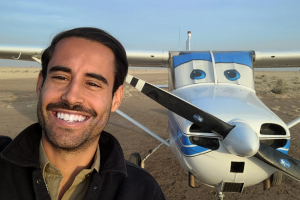 Tell us about your childhood. Where were you bought up, and what were your childhood passions?
I was born in Lisbon, Portugal, but spent my early years in the Algarve in the south, where my family is from. At the age of nine, I went to a military boarding school that my father had also attended, as my grandfather had worked as an engineer in the army. From a young age, I spent a lot of time in the ocean and wanted to become a marine biologist. But when I saw the movie 'Six Days, Seven Nights' in which Harrison Ford is a seaplane pilot in French Polynesia, I decided that I wanted to become a pilot, and live a similar lifestyle on a remote paradise island.
You moved to Africa in 2012. Why?
After I graduated from military school and high school, I went to flight school to become a pilot. After I got my licence, I looked for a job as a seaplane pilot on all the islands of the world. I soon realised that I didn't have enough flying experience to get such a position, but I still craved adventure. I read on the internet that there were opportunities in Namibia and Botswana in the safari industry for relatively inexperienced pilots. I bought a one-way ticket to Namibia, aged 22. After Namibia I moved to Botswana, and while I was there, I read an article in National Geographic about the killing of elephants in Chad. I reached out to the park managers at Zakouma National Park, and they gave me my first job in conservation.
From 2012 to 2016 you worked in conservation as a pilot in Chad, Gabon, Mali and South Sudan. It must have been an incredible learning experience. What are your outstanding impressions of that time?
Those were my formative years in conservation and were instrumental in getting me where I am today. I was fortunate to work with incredible and very experienced people who graciously shared their knowledge and mentored me in many areas, which helped me gain diverse skills. It was great to work in such varied countries and ecosystems, which really gave me a broad perspective on conservation issues and solutions.
You launched Wings for Conservation in 2016. What are your objectives and what do you think have been your most important achievements these past seven years?
Wings for Conservation is a non-profit foundation based in the Netherlands, and we provide aerial support to help protect and restore wildlife in Africa. Since 2018, our aircraft has flown more than 1,500 hours of conservation missions, covering more than 150,000 kilometres. Our field operations are based in Chad, and we have supported many different conservation projects, from surveillance and anti-poaching flights to wildlife monitoring, which have led to better management in many protected areas and ecosystems.
I would say our most important achievement was the establishment of Zah-Soo National Park, in southwest Chad. In early 2018, after another massacre of elephants in the Binder-Léré Reserve, the Chadian government asked for our support. Since then, our aircraft has flown several hundred hours of conservation missions over the reserve, and our work and presence in the area led to the creation of Zah-Soo National Park (inside the Binder-Léré Reserve) in March 2022.
You fly over some very remote, and even lawless, parts of central Africa. Do you ever worry about your safety?
I do not, and I do not think I ever have. I am well aware there are risks, and I take steps to mitigate those risks, but most of them are beyond my control. Last year, a French colleague was kidnapped in an area where we work almost every month, and it was a powerful reminder that such incidents can happen anywhere, anytime. I have never felt unsafe, and everywhere I go I feel welcomed by the local authorities and communities, especially in very remote areas.
Where does Wings for Conservation go from here?
Our 2030 goal is to reach 3,000 flight hours, covering more than 300,000 kilometers, and to have supported 15 conservation areas across Africa. We have been working in central Africa for over six years, with a focus on Chad, and will continue to do so in the near future. Conservation in Chad has taken a tremendous leap forward in the last decade thanks to a committed government and real collaboration between conservation organizations, and it is very exciting and inspiring to work in this country.
In 2022, we implemented our first project in Niger, and we intend to support several more projects in that country. We are also planning an expedition to North Darfur in Sudan to look for addax and dama gazelle. They are thought to be extinct in that area for over 50 years, but no one has looked for them really thoroughly during that period.