Internews' Earth Journalism Network collaborated with the Rwanda Media Commission, Power Shift Africa and the Media for Environment, Science, Health, and Agriculture (MESHA) to organise a Pre-Cop 27 conference in Kigali, Rwanda, from September 21 to 22, 2022.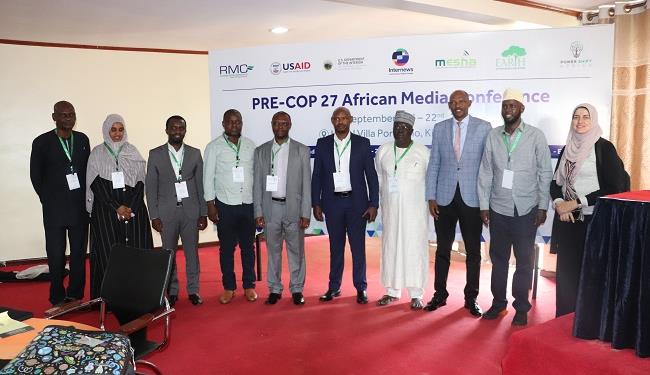 The 27th UN Climate Change Conference of the Parties (COP27) will be held in Sharm-el-Sheikh, Egypt, from November 6 to 18, 2022. COP27 is also known as the African COP (it is the second COP to be held in Africa after COP22 in Marrakech, Morocco).
Discussions are expected to focus on the urgent actions needed to address the mounting impacts of climate change – especially on frontline communities in Africa and vulnerable countries around the world which have contributed the least to the global climate crisis but are shouldering a crushing burden of climate impacts.
To that end, the pre-COP conference aimed to help journalists covering the environment, biodiversity and climate change issues in the African continent better understand the Conference of Party process and how to cover it.
Forty-four journalists gathered at the Hotel Villa Portofino to participate in the workshop: 15 from Rwanda, the rest from Malawi, South Africa, Zimbabwe, Nigeria, Tanzania, Uganda, Kenya, and COP27 host country, Egypt.
The meeting was officially opened by Faustin Munyazikwiye, Deputy Director General of the Rwanda Environment Management Authority. He highlighted key issues areas for Africa at the upcoming climate summit and pointed out areas of negotiation that journalists should focus on. Top of the list, said Munyazikwiye, is climate finance.
"Twelve years ago, wealthy nations committed 100 billion US dollars annually to less wealthy nations to help mitigate and adapt to climate change. That promise is yet to be met," he said. "This should be a top priority for African negotiators now that the COP is in the continent."
He urged the media to help make this an "African COP" so that the continent, which is bearing the brunt of climate change impacts from droughts to floods, can stand to be compensated for long-standing injustices.
Mohamed Adow, founder and director of Power Shift Africa, put it into perspective: "Africa accounts for less than 0.15% of global emissions yet we are the ones who are severely affected by climate change. We suffer the most largely because of emissions from rich countries who are heavy emitters," he said. "The COP27 conference in Egypt is a golden opportunity for Africa to come together and make a strong case for climate justice."
Okechukwu Ogbonnaya, the Rwanda country representative of the Global Green Growth Initiative, highlighted Africa-centred climate solutions at the COP27 that journalists can focus on, while Victor Bwire, deputy director at the Media Council of Kenya, shared tips on how to effectively cover emerging climate science as documented in IPCC and other climate reports.
Veteran journalists drew from their knowledge and experience to guide journalists on how to cover the climate summit, either in person or remotely. Zeynab Wandati, a science and technology editor with the NTV, Kenya suggested angles for journalists to consider before, during and after COP27. Michael Simire of EnviroNews in Nigeria helped the journalists identify and build story ideas at the workshop.
Kiundu Waweru, who leads EJN's East Africa Wildlife Journalism project, reminded journalists to practice the craft of storytelling to make their reporting more engaging to audiences, and offered ideas for how to humanise science and climate stories.
"We learned a lot about climate change and the COP process, and how to effectively report on it – focusing on solutions," said Zadock Amanyisa of the Daily Monitor, Uganda, who participated in the workshop.
Participants have also begun reporting on the key takeaways from the workshop, with stories appearing in The Rwanda Post, Mont Jali News, the Nation, Citizen TV and many other outlets.
MESHA CEO Aghan Daniel and Rwanda Media Commission's Executive Secretary, Emmanuel Mugisha, both deemed the Pre-COP workshop a success, although it was planned with limited resources. They said they would like this to be first of many convenings of climate experts, journalists and communicators – and hoped to be able to discuss best practices for the continent at an annual forum.
The Pre-COP convening was co-organised by EJN as part of its East Africa Biodiversity Knowledge Hub project, with support from USAID and the Department of Interior.
EJN has awarded fellowships for 20 journalists to attend and report on COP27 in Egypt this year, six of whom are from Africa.
The 2022 CCMP fellows are: David Casimir, Mauritius Broadcasting Corporation (Mauritius); Evelyn Kpadeh Seagbeh, Power FM/TV (Liberia); Tharushi Weerasinghe, Sunday Times (Sri Lanka); Juan Fernando Lara Salas, La Nación (Costa Rica); Narantungalag Enkhtur, Uzeg Agency and China Daily (Mongolia); Kalain Hosein, Guardian Media (Trinidad & Tobago); Cristiane de Azevedo Prizibisczki, O Eco (Brazil); Killian Chimtom Ngala, Timescape Magazine (Cameroon); Zoha Tunio, Inside Climate News (Pakistan); Pauline Ongaji, Nation Media Group (Kenya); and Xilena Pinedo, Ojo Público (Peru).
Others include Paul Omorogbe, Nigerian Tribune (Nigeria); Lyse Mauvais, The New Arab (Iraq); Anita Roberts, Vanuatu Daily Post (Vanuatu); Nihar Gokhale, The Morning Context (India); Mehedi Al Amin, The Business Post (Bangladesh); Daniel Gutman, Inter Press Service (Argentina); Rezza Aji Pratama, Katadata.co.id (Indonesia); Melody Chironda, allAfrica Global Media (South Africa); and Xuewan Chen, Caijing (China).