President Goodluck Jonathan on Sunday encouraged the Internally Displaced People (IDP) in Bayelsa State not to give up hope, that the Federal Government is committed in helping and ensuring their rehabilitation.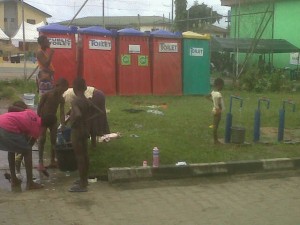 He stated this in one of IDP camps at the Samson Siasia Stadium, Yenagoa, Bayelsa State, during a tour of states affected by the nationwide flood disaster.
Meanwhile, the Federal Government said that it has registered  54,363 IDPs in Bayelsa and Rivers states, and that the registration is still ongoing.
Officials of the National Emergency Management Agency (NEMA)' said that the body is registering IDPs in established camps in Bayelsa and River states, and has  so far registered 35, 126 IDPs in six affected local government areas (LGAs) of Bayelsa State, while 19, 237 IDPs have been registered in four affected LGAs in Rivers State as at the weekend.
Already, there are over 55 camps in South-South region.
Jonathan said, "People that are not IDPs are the people always struggling for relief materials. These flood is all over the world, in Asia, Europe, I knew that Nigeria's flooding is bad. And when we have such disaster food is not the problem, do not make food your priority. If you eat once, thank God, I know that  none of you would die of hunger here. Before the middle of November, the water would have receded.
"The biggest flood I experience was in 1969. I believe by that by the middle of November, the water would have receded, but when the water recedes, the most important thing is rehabilitation, because farms, boats and all of your properties have been carried away by the flood. Even the seeds are gone. So its not the food that you would eat today that is more important.
"As the President, I have never eaten three square meals, each day. Sometimes its only once I eat. The Federal Government is more concerned about prevention of outbreak of epidemic in the camps. The FG is more concerned about rehabilitation of people affected by water.
"And that is why we are going round to encourage the IDPs. In Kogi State,  four farmers committed suicide because they borrowed money from the bank to buy seeds and flood came and destroyed their farmland. So because they were scared, they committed suicide.
"I am here to encourage you that international organisations and other nations all over the world have promised to help us. I was in a place in Kogi, a storey building was under water."
He said NEMA would continue to establish more camps in the two states, where necessary, to accommodate influx of people moving away from their houses as the volume of water continues to rise in some of the communities.
Jonathan noted: "Actually the South-South started the relief effort. We are the first to mobilise relief to this place. We are still providing more relief items. It is an ongoing thing, we are still bringing more relief items as the need arises.
"As of this morning a truck arrived and we are taking it to the warehouse. So far, we have been able to bring in close to 1500 mattresses and we are still going to bring in 1300, 600 bags of rice, 400 bags of beans, 600 bags of garri; and we have other items like blankets, buckets, etc."
On challenges faced, he said, "The initial problem we are experiencing was the issue of coordination, because there was no effective State Emergency Management Agency (SEMA) in place, we are running the camps in collaboration with the state commissioners and local government chairmen. And ordinarily if we have effective SEMA in place, we would have hooked on and flowed normally. But, in this case, we are now running in the structure."
He urged registered non-governmental organisations (NGOs), volunteers and community leaders to support in the management of the established camps.
By Laide Akinboade