The Women Initiative for Sustainable Environment (WISE), an NGO, on Friday, March 11, 2022, mobilised women to drive climate change adaptation, mitigation and response in Kaduna State.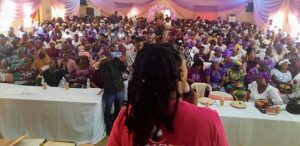 WISE Founder and Programme Director, Mrs Olanike Olugboji-Daramola, made the call in Kaduna at an event organised to commemorate the 2022 International Women's Day (IWD).
The event was organised by WISE in collaboration with grassroots women groups and Lush Hair Nigeria, to celebrate the contribution of women and girls in building a safe environment for a sustainable future.
Olugboji-Daramola said that the call was for the women to contribute their quota in addressing environmental challenges in line with the theme of 2022 IWD – "Gender Equality Today for a Sustainable Tomorrow".
She said that WISE had developed several programmes that had continued to position women at the frontline of addressing environmental challenges.
She identified some of the programmes as WISE Women Clean Cookstove Entrepreneurship Programme, Sustainable Fuelwood Management to stem the tide of deforestation, and Climate Smart Agriculture for small-land-holder women farmers, among others.
According to her, the programmes have equipped women with the right knowledge and skills to contribute to a safe and just environment for all.
"Women, girls, persons with disabilities are worst affected by climate change and as such, are in a better position to drive the change they want to see.
"WISE will continue to be an advocate of women becoming authors of their own change and women rising up to make themselves informed enough to be called to the discussion-making table.
"We also want to see women creating their own safe spaces, where they can make decisions, take action and bring progress to society," she said.
She called on men to see women as equal partners in progress and stressed the need for women's empowerment and involvement in the decision and development process to make society better.
She said: "Our call for gender equality is not a call to fight or contest with men, but a call for partnership.
"It is a call saying, 'I am a woman with something to offer; just give me space to make my own contribution'."
Also speaking, Mrs Hauwa Yahaya, Special Assistant to the Minister of Finance, Budget, and National Planning, Zainab Ahmed, also called on women to develop their talents, be credible and support one another.
Yahaya, who is also the President of the International Women and Youth Revival Initiative, equally called on men to support women by creating more space for women to contribute to the development of the country.
Mrs Elizabeth Hassan, Chief Executive Officer, Yakwai Human Touch Foundation, a community-based organisation, said that the event provided a platform for women to share ideas and encourage one another.
Hassan said that women's empowerment and participation would go a long way in leaving no one behind and moving society forward.
She encouraged women to rise and do something for themselves and stop depending on men for everything.
Some of the activities at the event included dancing competition, and distribution of gifts such as cash, lush-branded T-shirts, and clean cookstoves.
Others were hair caps, branded handbags and other household items like detergents and spaghetti.
By Philip Yatai