Private sector players have been asked to seize the investment opportunities existing in the environment sector and help transform the nation's economy.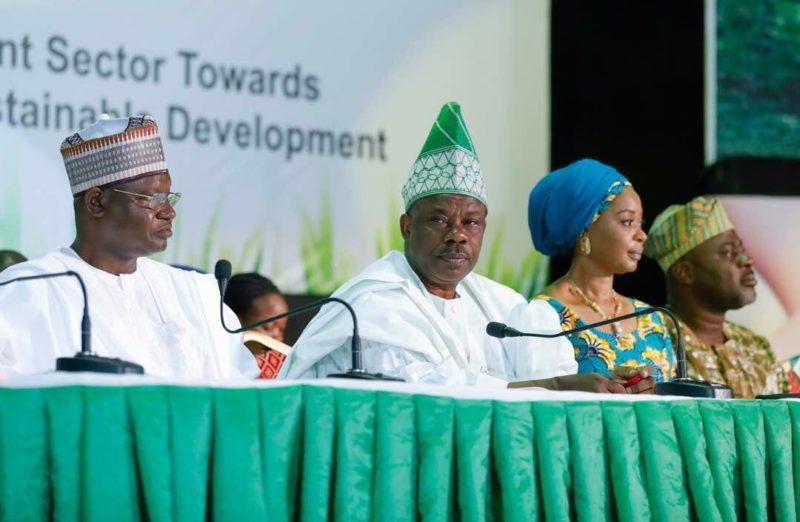 Environment Minister of State, Ibrahim Usman Jibril, who made the submission in Abeokuta, Ogun State on Monday, October 16, 2017 at the 11th National Council on Environment (NCE), stressed that the investment opportunities entail repositioning the National Agency for Great Green Wall, waste management, watershed management, renewable energy, eco-tourism, Green Bond, afforestation and reforestation, implementation of UNEP Report, and the Hydrocarbon Pollution Remediation Project.
He said: "Against the backdrop of our recent recovery from economic recession and the global initiatives towards the use of renewable energy sources, this administration is more than ever before committed to finding alternative sources of revenue to sustain the recovery process. Consequently, I am inviting the private sector to seize the investment opportunities existing in the environment sector."
He pointed out that, in spite of the challenging times, government has demonstrated political will and commitment in the cause of reviving the "Nigerian Project" by dealing with immediate issues of improving security, tackling corruption, and revitalising the national economy.
"It is in the light of this that government recently launched the Economic Recovery and Growth Plan (ERGP), 2017-2020 economic blue print. Pursuant to the ERGP's policy objectives on the Environment Sector, our discussion and deliberations during this important meeting would be guided by what is trending in our dear nation, aspirations of Nigerians and the policy direction and focus encapsulated in the document which defines and determines the new narrative and vision of the present administration for the sector."
Highlighting the achievement of the ministry since his appointment in 2015, the minister stated: "In the area of projects and programmes execution, we are implementing the UNEP Report on Ogoniland through the Hydrocarbon Pollution Restoration Project (HYPREP), clean-up of lead contaminated sites in Shikira (Niger State) and the soon-to-be launched Green Bonds programme. We have also ratified International treaties and conventions on Climate Change, signed the Minamata Convention on Mercury and obtained the Federal Executive Council approval for its ratification."
Permanent Secretary in the Federal Ministry of Environment, Dr. Shehu Ahmed, stated that the current economic and environmental challenges confronting Nigeria "made it necessary for us to consider unlocking the investment opportunities available in the sector to contribute to the government's efforts towards the nation's economic recovery and its diversification."
He described the National Council on Environment as the highest decision making body on Environment in the country.
The theme of the meeting is: "Unlocking the Investment Opportunities in the Environment Sector towards Nigeria's Economic Recovery, Diversification, Growth and Sustainable Development".